Tiny Tot Clinic secures grant for cerebral palsy research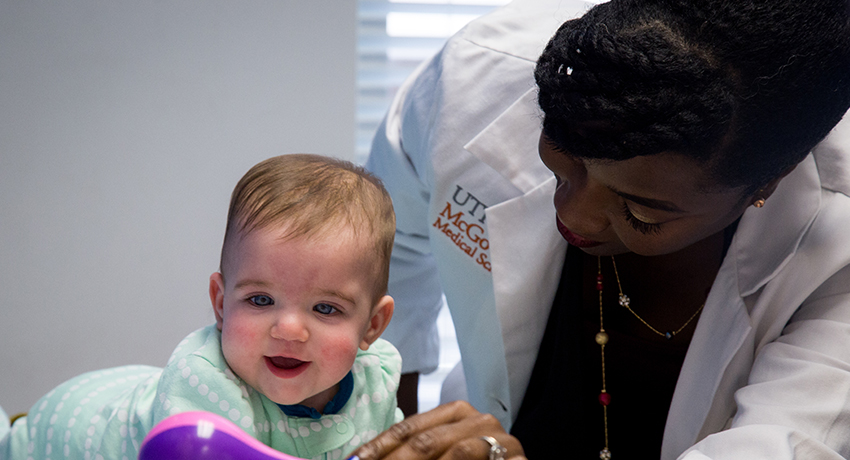 Related Healthcare Providers
The UT Physicians Pediatric Center Tiny Tot Clinic is now one of only seven programs nationwide to be invited to take part in a new initiative by the Cerebral Palsy Foundation designed to improve diagnosis and intervention results.
The Cerebral Palsy Foundation started the Cerebral Palsy Early Assessment Initiative as a means to work to lower the current average age of diagnosing the condition, which is currently 2 years old.
"This is extremely late, given that diagnosis can be prior to a year of age and earlier diagnosis and intervention results in much improved functional outcomes," said Andrea Duncan, M.D., associate professor of pediatrics at McGovern Medical School at The University of Texas Health Science Center at Houston (UTHealth) and the clinic's medical director.
The providers at the Tiny Tot Clinic are now part of one of the only cerebral palsy clinics to be trained and supported to provide specialized assessments and interventions recommended in evidence-based guidelines recently published in the Journal of the American Medical Association for early diagnosis of cerebral palsy, including the Hammersmith Infant Neurological Examination and the General Movements Assessments. Duncan said the Tiny Tot clinicians are now some of the only individuals in the state trained to perform the General Movements Assessment.
The Cerebral Palsy Foundation provided a grant covering the extensive and costly training for clinicians to be trained by an international, General Movements Trust instructor and brought a national trainer in the Hammersmith Infant Neurological Examination in to train the team in this assessment. The initiative grant supports the addition of a physical therapist, funding for a clinic coordinator, specialized training, iPads, and other resources. Duncan has also been invited by the lead principal investigator of the CP Foundation Initiative, Dr. Nathalie Maitre, to become a national Hammersmith Infant Neurological Examination trainer, and has trained teams in Florida and Ohio.
"At the start of the initiative, our team was the only program in the Cerebral Palsy Initiative Network that also provided psychological support to parents," Duncan said. "Given this, we were invited to create guidelines for parental support in the network clinics and presented them at the international Implementation of Early Detection and Intervention for Cerebral Palsy Conference." The conference, held April 6 and 7, was the first of its type to develop and promote new ways to improve how clinicians recognize and address cerebral palsy in a multidisciplinary setting.
The Cerebral Palsy Foundation also awarded the Tiny Tot Clinic $7,500 to support marginalized families with transportation and parking costs to allow them easier access to the clinic.
— Jonathan Garris, McGovern Medical School