Adjustable Lap Band Surgery
Written by:
Marcos Medina, UT Physicians
| Updated:
October 29, 2014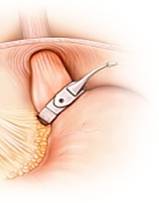 The adjustable band is a procedure during which your surgeon will implant a permanent, prosthetic "band" around the neck of your stomach. This procedure is purely "restrictive", meaning that it allows you to eat less while feeling full by creating a much smaller virtual stomach pouch above the band. The adjustable band has an inner lining that is inflatable and is connected to a port hidden within your abdominal wall. For the first 1-2 years after the operation, the band will be periodically filled or adjusted in the office to give you optimal restriction.
The adjustable band does not require cutting into the stomach or intestines and is therefore, deemed to be a safer operation. Nonetheless, it is still a major abdominal operation, and the preparatory phase is the same as for the Bypass procedure. Weight loss with the adjustable band is less than after the Bypass, and highly variable.
Weight loss can range from 0 to over 90% of excess body weight, with an average of 30% of excess body weight at one year and 40% at two years. Briefly stated, the benefit of the adjustable band is its safety profile; the downsides are the need for postoperative adjustments and variable weight loss.