The Changing Face of Stroke
Written by:
Shannon Rasp, HealthLeader
| Updated:
April 30, 2015
Related Healthcare Providers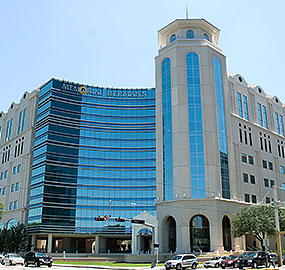 He kept dropping his phone.
It had been an ordinary day in November of 2013. Kenneth Taylor came home from work and sat down to relax. But for some reason, he couldn't grasp his cell phone in his hand. He dropped it, picked it up and dropped it again. It happened three times. He got up to walk around and fell. Finally, he managed to call his daughter, who called the leasing office of his apartment complex. A staff member came over to Taylor's home and promptly called for an ambulance.
"I remember not really being scared, until they told me they were taking me to Memorial Hermann," Taylor says. "I live literally around the corner from a hospital in Willowbrook (a section of north Houston), so I knew something must really be wrong if they were taking me miles away to the Texas Medical Center."
Hospital personnel ran a battery of tests on Taylor, and then took him to the Intensive Care Unit, where he stayed for several days. Taylor, 39 years old and in good health except for some high blood pressure, had a hemorrhagic stroke.
"Unfortunately, Mr. Taylor's experience is all too common," says Anjail Sharrief, M.D., M.P.H., UT Physicians neurologist, assistant professor in the UTHealth Medical School Department of Neurology and director of The UT Physicians Stroke, Transitions, Education and Prevention (STEP) Clinic. "Younger African Americans actually have a four times higher risk of stroke as white people, and African Americans of any age are twice as likely. Some of this is related to blood pressure—44 percent of African Americans have high blood pressure. And once you have one stroke, you are at an increased risk of a second one."
Nneka Ifejika, M.D., M.P.H., UT Physicians neurologist and associate professor of neurology at UTHealth Medical School, says that statistically, minorities—particularly African Americans and Hispanics—have their first stroke 10 to 13 years earlier than whites and are more likely to have a second stroke. They are also more likely to be disabled two years after a stroke, according to research.
The problem has become so widespread that the American Heart Association issued a statement in 2011 on the subject. "Racial and ethnic disparities in stroke exist and include differences in the biological determinants of disease and disparities throughout the continuum of care, including access to and quality of care," it says. "Access to and participation in research is also limited among minority groups."
This is a problem Dr. Ifejika knows all too well. "Minorities often present to the emergency center with a stroke, without having their risk factors under control or even evaluated by a doctor beforehand because of a lack of insurance or being underinsured," she says. "We were taught in medical school that strokes usually occurred in older people, but that's just not the case anymore. In the last 10 years, we've been seeing more people having strokes while still in their twenties."
One of Dr. Ifejika's patients had a stroke when he was 24. "A big part of the problem is we are so sedentary. Everyone has office jobs now, and we don't get the physical exercise people used to get," she adds. "As a result, there is no such thing as a typical stroke patient anymore."
Yearning to play again
A sedentary lifestyle was probably a risk factor for Taylor. A jazz musician, he spent most of his time sitting at a control panel in a recording studio or at a keyboard. He had been taking medication for his high blood pressure, but he says he wasn't as diligent about it as he could have been. "I didn't know that if you miss a dose, it could actually make things worse," says Taylor, whose mother, grandfather, and uncle all had strokes. "I thought of myself as young and healthy. I thought it was something that happened to older people, not people like me."
After several days in the ICU, Taylor was moved to a rehabilitation center. There, he began relearning all of the things he had once done without even thinking about it. "I had to learn how to walk again, get on the treadmill, use weights, do leg lifts and figure out how to maintain my balance," he says.
Taylor's doctors told him that the first year after a stroke is when the greatest progress is made in rehabilitation, and that it's slower in subsequent years. "It's been a struggle because I'm not able to play music the way I was able to before. I still have weakness on my right side, and I undergo therapy and take muscle relaxants for stiffness that my brain perceives as pain," he says. "Music is my life, and I am just looking forward to playing again. I want to get my life back."
Taylor's frustrating post-stroke experience is common.
"Stroke has fallen to the fifth-highest cause of death in the United States, even though the declines have not been the same across racial lines," Dr. Sharrief says. "Fewer people are dying from stroke, which means more people are living with the aftereffects of having one."
Getting connected to manage health
Post-stroke care has, therefore, become a booming industry. In her duties as director of neurorehabilitation at UTHealth Medical School, Dr. Ifejika is responsible for evaluating and planning for the care of patients after they suffer a stroke. One problem she noticed was that patients tended to slide back into their old habits over time. "When I saw patients in the first months after a stroke, they were doing what they needed to be doing because they were scared," she explains. "But after four or five months, they got comfortable and fell into old habits. Their weight started to go up, and they needed more medicine. Most stroke doctors treat patients during the first five days, but I get them for the rest of their lives. I knew we had to do something."
Dr. Ifejika began investigating the use of the Lose It! app to encourage stroke patients to lose weight. She is now enrolling patients in an ongoing study on its efficacy.
"Generation X is starting to have risk factors that can cause strokes, so I'm using an actual weight loss app," she explains. "I speak to them through the app, monitor their food and talk to them. Medicine evolves and changes daily, and using smartphone technology is the wave of the future. We do everything else with our phones, so why shouldn't we use it for better patient care?"
Dr. Ifejika's study looks at objective factors such as cholesterol, weight, vital signs, and inflammatory markers. An upgraded program called Ascend allows Dr. Ifejika to see how the participants are doing and send encouraging comments or reminders. There's also a community group within Lose It! that allows patients to communicate with each other.
"Diet and exercise is the best way to avoid a stroke, but I'm a realist. I know people aren't going to completely swap out things they love," Dr. Ifejika says. "I like pasta just as much as everyone else, but you just can't eat as much as you have been. I tell my patients that I'm not trying to make you miserable. I'm trying to keep you alive."
Dr. Ifejika also stresses the importance of families and communities working together when it comes to stroke prevention and recovery. "Stroke can have a dramatic effect on people emotionally as well as physically. About 80 percent of my patients have depression," she says. "Loneliness and depression can really affect recovery, as those two factors affect a patient's ability to comply with best medical management."
Luckily, Kenneth Taylor has had the support of his family throughout his long recovery process. "I've been married for 16 years. It's been an adjustment for everybody, but my wife, Sheneil, has never left my side," he says. "She got me up, bathed me, dressed me, and did everything for me until I could do things for myself."
Taylor also believes that life isn't over just because you had a stroke. "You just have to adjust and find new ways to do things. Do your own research and talk to your doctors. There are a lot of different options people don't know about," he says. "Most importantly, keep your blood pressure under control. It was an average day for me, nothing out of the ordinary, and then this happened and changed my whole life."