UT Physicians Adult Congenital Heart Disease Clinic – Texas Medical Center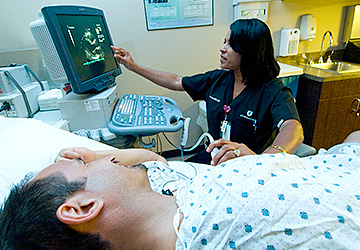 Physicians & Health Care Team
About
The UT Physicians Adult Congenital Heart Disease Clinic – Texas Medical Center provides patient care for those ages 16 and older who have hereditary, acquired, and congenital heart disease. Care is coordinated with the Memorial Hermann Heart and Vascular Institute and Children's Memorial Hermann Hospital.
Board certified cardiologists, with faculty appointments at McGovern Medical School at The University of Texas Health Science Center at Houston (UTHealth), are specifically trained in all aspects of congenital heart disease and the complex anatomy and physiology of adults living with congenital heart disease. UT Physicians offers medical management, lifestyle counseling, and interventional and surgical treatments for a broad spectrum of conditions related to congenital heart disease.
The UTHealth Adult Congenital Heart Disease Program is a member of the Adult Congenital Heart Association, and participates in the HEARTS athlete screening program.
The clinic offers:
Close collaboration with nationally-known interventional cardiologists and cardiothoracic surgeons with expertise in the management of congenital heart lesions
Specialized advanced cardiac imaging for non-invasive evaluation of congenital heart conditions
Transition from pediatric to adult-oriented care
Coordinated care with advanced heart failure and heart transplant program
Collaboration with multiple subspecialty groups including pulmonary hypertension, hematology, hepatology, psychiatry and gynecology
Pre-pregnancy counseling, genetic counseling
High-risk pregnancy management with our maternal-fetal medicine team
This multi-faceted program provides a range of services for patients including:
Treatment and ongoing medical management for patients age 16+ with both simple and complex congenital heart disease, and other acquired heart diseases in young adults.
Evaluation of heart murmurs and arrhythmias in those with suspected congenital heart disease.
Screening of athletes with suspected congenital heart disease.
Transition of patients from pediatric to adult care.
Diagnostic testing including echocardiography, cardiac MRI, Holter monitoring, fetal echo, cardiac CT and stress testing.
Cardiac catheterization, electrophysiology testing and related interventional procedures.
Management of congenital heart disease during pregnancy and while undergoing treatment for other medical conditions.
Management of additional cardiac risk factors that may be seen in patients with congenital heart disease.
Psychiatric care for adult congenital heart disease patients and their families.
High Pedestrian Alert
The Fannin facing side of the UTPB Garage Building has a high traffic of pedestrians. Please be careful when entering and exiting the parking building.
Parking Rates
| Time Range | Rate |
| --- | --- |
| Up to 1 hour | $4 |
| Up to 1 hour, 20 min | $5 |
| Up to 1 hour, 40 min | $6 |
| Up to 2 hours | $7 |
| Up to 2 hours, 20 min | $8 |
| Up to 2 hours, 40 min | $9 |
| Up to 6 hours | $10 |
| Up to 24 hours | $20 |
| Lost Ticket | $20 |
| Valet Parking – Up to 6 hours | $12 |
| Valet Parking – Up to 24 hours | $20 |
Getting to the Parking Garage
From Fannin Street (Southbound)
On Fannin Street, Take a right on the Ross Sterling light between Mac Gregor and John F. Freeman Blvd.