UT Physicians Adult Hematology – Texas Medical Center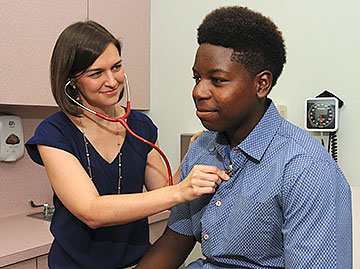 ---
Memorial Hermann Medical Plaza – Texas Medical Center
Physicians & Health Care Team
About
The physician faculty members of The University of Texas Medical School at Houston's Division of Hematology provide both outpatient and inpatient consult services.  Outpatients are seen at the Memorial Hermann Cancer Center/Hematology Services Clinic.  Representing the best in the field, our physicians specialize in malignant and non-malignant disorders of red cells, white blood cells and platelets including acute and chronic leukemias, lymphoma, multiple myeloma, and myelodysplasia.  Additionally, our specialists treat patients with coagulation disorders, including congenital or acquired bleeding and thrombotic states.
The Memorial Hermann Medical Plaza Building is located at the North end of the Texas Medical Center. The parking garage is easy to get to from any direction with entrances from both Fannin and Main.
Visitor parking is available 24 hours. Valet services are available from 7:00 am to 6:00 pm Monday through Friday except holidays.