UT Physicians Orthopedics – Richmond
UT Physicians Orthopedics – Richmond
1517 Thompson Highway
Richmond, TX 77469
(713) 486-7000
Driving Directions
Select providers by specialty
Adult patients seen.
Clinic Hours
M-F

8am-5pm (closed noon-1pm)
UT Physicians Orthopedics provides compassionate, contemporary medical care in a professional, effective and cost-effective manner as we encourage a multi-disciplinary team approach to address the needs of the patient as a whole person.
Our team of orthopedic specialists is comprised of leading physicians who are among some of the best in their field, contributing to the advances in orthopedic medicine through published articles, research studies, and innovative new treatments. Though their work has appeared in international journals and medical conferences, their focus remains local and centered on each and every patient. Ensuring that patients receive the highest standard of care for the best quality of life possible is their common goal.
With more than 1,000 clinicians, including orthopedic doctors, UT Physicians are internationally recognized for leading-edge medical research and treatment, and many of our doctors are among the Woodward-White Best Doctors in America.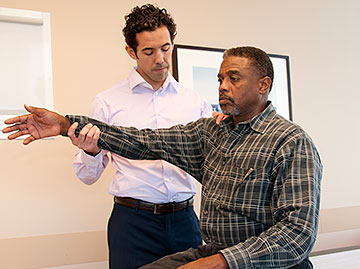 ---