The struggle is real: How to make eyeglasses work while protecting yourself from COVID-19
Written by:
Laura Frnka-Davis
| Updated:
June 29, 2020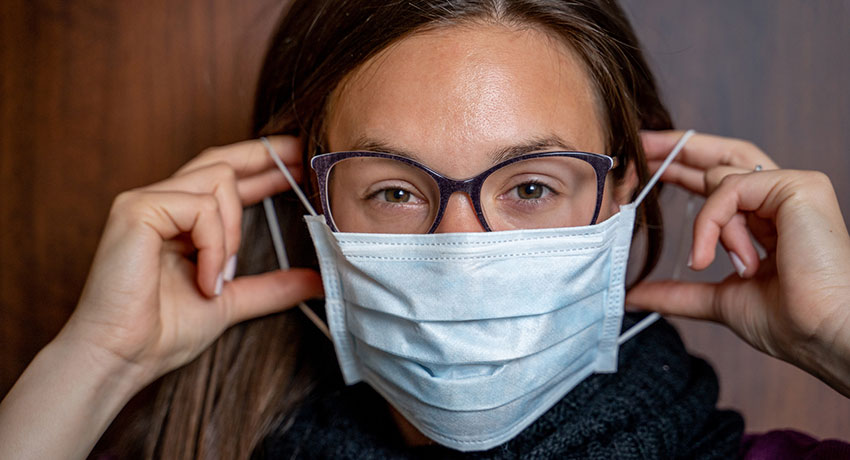 If you wear eyeglasses daily, you may find them fogging up regularly when you are wearing a mask to protect yourself and others from the transmission of COVID-19.
Karina Richani, MD, an ophthalmologist providing services at UT Physicians Multispecialty – Cinco Ranch and assistant professor in the Ruiz Department of Ophthalmology and Visual Science at McGovern Medical School at UTHealth, outlines some tips for those of us needing to wear glasses and masks at the same time.
"The first thing to consider is to make sure your mask fits correctly. The sides of the masks can be tightened for the best fit," said Richani. "If you're wearing a surgical mask or one with a nose bridge, make sure to pinch or mold the central portion of the top of the mask to fit the shape of the nose. This will reduce the amount of air escaping."
On the other hand, if you're wearing a cloth face covering that does not have a wire or adjustable nose piece, she says to try moving the mask up and place your glasses on top of the mask to seal the gap to prevent fogging.
She also suggests using tape (medical paper tape, adhesive) to seal the gap between the top of the mask and the nose and cheeks. Another tip is to wash your glasses with soapy water to help reduce fogging. Use a soft cloth to wipe them to avoid scratching the lenses. If you're using an anti-fogging solution, making sure it is safe to use on your glasses as some may damage a special coating on the lenses.
"Above all else, it's important that your mask completely covers your nose and mouth, regardless of the type of mask used. Otherwise, you're defeating the purpose," said Richani.
For more resources and tips on managing COVID-19, visit our information center.
As the clinical practice of McGovern Medical School at UTHealth, UT Physicians has locations across the Greater Houston area to serve the community. To schedule an appointment, call
888-4UT-DOCS
. For media inquiries, please call
713-500-3030
.