Dashwood offers first UTP pulmonary function testing lab
Written by:
Carlos Gonzalez, UT Physicians
| Updated:
April 6, 2016
Related Healthcare Providers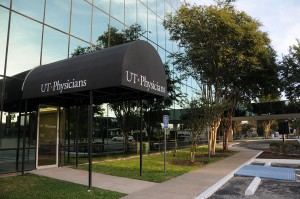 UTP's first Pulmonary Function Testing lab is now available at the UT Physicians Pulmonary and Sleep Medicine Clinic at Dashwood.
The office is now accepting patient referrals for testing of symptoms suggestive of COPD, asthma, and restrictive lung disease.
The office is staffed by Farah Akhtar, M.D., board certified in pulmonary and sleep medicine, and the testing will performed by a registered respiratory therapist.
"Having a pulmonary function lab in the community will make diagnostic testing more accessible for both patients and referring physicians," Akhtar said.
The state-of-the-art cardiorespiratory diagnostic equipment used for testing is the Platinum Elite™ body plethysmograph with RTD by MGC Diagnostics.
In-office testing includes:
Baseline spirometry (FEV1, FVC, FEV1/FVC%)
Diffusing capacity (DLCO)
Body plethysmography (lung volumes)
Pre and post six minute walk
Maximal voluntary ventilation (MVV)
Mips and Meps (maximal inspiratory and expiratory pressures)
Six minute walk with oxygen titration