Free seminar to focus on Dysautonomia
Written by:
Deborah Mann Lake, Office of Public Affairs
| Updated:
April 14, 2015
Related Healthcare Providers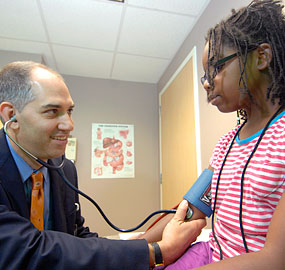 UT Physicians will be among presenters at the 2015 Dysautonomia Seminar that will be held from 8:30 a.m. until 3 p.m. Saturday, April 25.
The seminar, which is free, will be held at the Hermann Pavilion Conference Center at Children's Memorial Hermann Hospital, 6411 Fannin St. It is jointly presented by Children's Memorial Hermann Hospital, TIRR Memorial Hermann Pediatric Rehabilitation, and UTHealth Medical School.
The educational conference is designed for pediatricians, general practitioners, pediatric neurologists, and pediatric cardiologists. It is also open to physiatrists, physical therapists, caretakers, patients, and individuals interested in dysautonomia. Continuing Medical Education credits are available.
Dysautonomia is caused by a dysfunction of the autonomic nervous system, which regulates all the unconscious functions of the body from the heart beat to breathing. It can affect the cardiovascular, gastrointestinal, metabolic, and endocrine systems, causing organs throughout the body to work improperly.
Conference topics include signs and symptoms, biology, research initiatives, gastrointestinal issues, coping with the disease and physical activity for children and adolescents with dysautonomia.
UT Physician pediatrician presenters include Ian Butler, M.D., professor of pediatrics, director of the Division of Child & Adolescent Neurology and Jacobo Geissler Distinguished Chair in West Syndrome Research; Mohammed Numan, M.D., associate professor, Division of Cardiology; Jeremy Lankford, M.D., assistant professor, Division of Pediatric Neurology; and Melissa Van Arsdall, M.D., assistant professor, Division of Gastroenterology. Also presenting are Holly Varner, M.D., assistant professor, Department of Neurology; and Glendaliz Bosques-Mendez, M.D., assistant professor, Department of Physical Medicine and Rehabilitation at UTHealth. Presenters from TIRR Memorial Hermann are Jessica Dalmolin, D.P.T., and Kathy Carrico, LCSW.
Seating is limited. Register by email.