The "Gentle" Cesarean
Written by:
Shannon Rasp, HealthLeader
| Updated:
October 12, 2015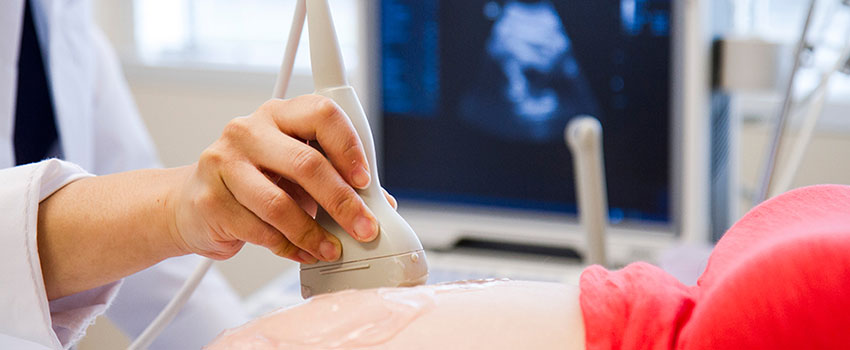 Related Healthcare Providers
When Colleen Rein was pregnant with her fourth child, Dominic, earlier this year, she knew she would have to deliver via cesarean section. But the traditional cesarean—highly clinical, strapped to a bed, woozy from anesthesia and the feeling of being apart from the proceedings—wasn't for her. Instead, she opted for a different way to give birth: the "gentle" cesarean.
"I've been doing "gentle" cesareans—which I actually call family-centered cesareans—for at least 10 years," says Pamela D. Berens, M.D., professor and vice chair of clinical affairs in the Department of Obstetrics, Gynecology and Reproductive Sciences at The University of Texas Health Science Center at Houston (UTHealth) Medical School, who delivered the almost 9-pound Dominic Rein on June 2. "Conceptually, you are trying to make it a better experience for the patient rather than just what's easiest for hospital staff.
"Too often, women who deliver via cesarean section (C-section) feel like they didn't actually 'give birth.' They are completely passive during the process, and sometimes they struggle with the belief that they missed the childbirth experience," adds Dr. Berens, an OB/GYN affiliated with Children's Memorial Hermann Hospital and UT Physicians and a leading national expert on breastfeeding. "In fact, there's a significant difference in how the women who've been put to sleep perceive the birth itself. With this method, we try to make them feel like an integral part of the process."
Dr. Berens says a few of the hallmarks of the family-centered cesarean include:
using see-through curtains and mirrors so the women can see what's happening;
giving only a regional anesthetic;
having multiple family members in the room;
delivering the baby slowly using less force;
not strapping mom's arms to boards;
delayed cord clamping; and
immediate skin-to-skin contact.
"As soon as Dominic was born, they wiped him down a bit and handed him to my husband, who put him on my chest," Rein says. "I was able to hold him for as long as I wanted. Research has shown that immediate contact is good for both mom and baby, and besides, as a mom, you don't want to wait for an hour or two to hold your baby while they clean him up and do all the tests."
Contact and coordination are crucial
Skin-to-skin contact, according to Dr. Berens, helps maintain the baby's temperature, allows the baby to adjust to his or her new surroundings, and is good for attachment and breastfeeding success.
"Skin-to-skin really makes a difference—it helps with bonding," Rein explains. "You don't feel like, 'Well, everyone in the room has seen my baby except me.'"
Dr. Berens says that performing the family-centered cesarean in an operating room is logistically more involved because of monitoring the mom. "We need to do a different placement of IVs and the blood pressure cuff, EKG machines, etc.," she says. "In the past, mom's arms would be strapped to boards. But we don't do that in this method. There are different requirements for hospital staff, so when it's planned it's much easier to do."
Indeed, the cooperation of an interdisciplinary staff is critical for success. According to an article published in the September/October 2014 issue of the Journal of the American Board of Family Medicine, collaboration among family physicians, obstetricians, midwives, pediatricians, neonatologists, anesthesiologists, nurses and operating room personnel "facilitated the provision of gentle cesarean delivery to families requiring an operative birth."
"We have great staff, and our hospital (Children's Memorial Hermann Hospital) really tries to meet mom's needs and desires, as long as it's not an emergency," Dr. Berens says. "We're lucky we're in the Texas Medical Center, because it's geared toward patient satisfaction. We can even do the Apgar test on mom's chest as long as the baby is acting normal and vigorous."
Rein's first child, Ambrose, now 6, was a planned cesarean because Rein's doctors suspected that he would be a very large baby (he weighed more than 9 pounds). His birth was a traditional cesarean, as was that of his sister, Bernadette, now 4. By the time Michael, 2, arrived, Rein knew a more personal birth experience was the way to go.
"I have actually recommended this method to other moms," Rein says. "I haven't experienced any issues like postpartum depression or anything like that, but I do know other women who have found it upsetting that they can't have a 'normal' birth. This just makes it feel more like a regular birth, and that's what most moms want."
Cesarean section rates are rising
Cesarean deliveries are the most common surgery in the world, yet "increasing evidence shows that women undergoing caesareans have a less satisfactory childbirth experience than those delivering vaginally and are more prone to postnatal depression, bonding difficulties and unsuccessful breastfeeding," according to a paper published in the 2008 issue of the British Journal of Gynaecology: An International Journal of Obstetrics and Gynaecology.
The paper states randomized trials demonstrate that early skin-to-skin contact increases the rate and duration of breastfeeding, reduces infant crying and improves maternal affection. It adds that caesarean section rates are rising worldwide, and given the negative effect that caesareans, whether indicated or discretionary, have on maternal satisfaction, bonding and breastfeeding, improving this experience while maintaining safety should be a priority.
Dr. Berens says she believes that if more women were aware of the options open to them, family-centered cesareans would soon become the standard of care. "I think a lot of this just depends on whether or not expectant moms are aware that it's available," she says. "If they are, the vast majority will choose aspects of it. A lot of first-time moms don't plan on a C-section, so they don't really investigate it. But women need to talk to their provider beforehand so they can see what's available. Talk to your doctor and tell them how important this is to you."
For Rein, having Dr. Berens on her side at the delivery was invaluable. "Dr. Berens was very supportive of our choices. She is very much about presenting you with the information and letting you make the best choices for you and your family," she says. "She also made sure that the nurses and everyone else involved in the delivery knew and were supportive of our wishes.
"It was really nice to have a supportive doctor who listened to us. I recommend it to others and would love to see other doctors see this as a standard of care rather than the exception."