Say good night to sleep apnea
Written by:
Brent Stoller, HealthLeader
| Updated:
February 21, 2014
For as long as I have been sleeping in the same room with other people, I have been disturbing them. That's what happens when you "snore like a freight train," or when you "saw logs like a lumberjack."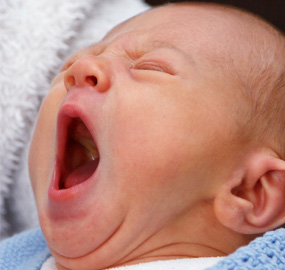 From middle school sleepovers, to my college dorm, to every hotel room I've ever shared, anyone who's been present for my REM sleep cycle has ultimately been denied theirs.
Knowing that I'm ruining somebody's night has always been discomforting, but what I really dread is waking up the next morning and seeing the other person's worn-out face wearing an expression that screams, "What is wrong with you?"
I couldn't help but ask myself the same question. Something did feel out of whack. I was always tired. Always. It didn't matter how early I went to bed, or how many hours I slept; I felt more wrung out the next morning than I did the night before. My memory began to slip, and my energy level struggled to keep up with my daily to-do list. I was fighting a low-grade depression I could seemingly never shake. Finally, at the urging of my girlfriend, I went to the doctor to get checked. Turns out that there was (and still is) something wrong with me:
I have sleep apnea.
Disrupted sleep
Affecting more than 18 million American adults, sleep apnea is a chronic disorder in which a person's breathing is interrupted repeatedly during sleep. Each pause in breathing, or "apnea," lasts approximately 10 seconds or so. This consistent disruption in breathing not only causes a drop in oxygen levels and fragmented sleep, but it also forces the body to work extra hard to overcome these losses — resulting in serious, far-reaching consequences, both functionally and physiologically.
"Sleep apnea is a contributing cause to diabetes and high blood pressure," says Richard Castriotta, M.D., UT Physicians pulmonary and sleep medicine specialist. "It also puts people at high risk for heart disease, stroke and, depending on the severity of the disorder, a decrease in lifespan."
There are three types of sleep apnea, with Obstructive Sleep Apnea (OSA) being the most pervasive by far. In OSA, the soft tissues in the tongue and the back of the throat collapse, resulting in an obstructed upper airway. Less common is Central Sleep Apnea (CSA), in which the brain, in essence, fails to tell the body to breathe in its normal pattern. The third form of the condition is Complex Sleep Apnea, which is a combination of OSA and CSA.
Though it is most prevalent in overweight people — and more prevalent in anyone over 40 — Dr. Castriotta explains that everyone is at-risk for sleep apnea, including children. "It occurs in all age groups, and is about as common as asthma. In children, the causes are typically big tonsils or adenoids," he says. "In adults, it's about weight, or having a small jaw or large tongue. Just the anatomy that we each have is enough to predispose us." Dr. Castriotta also notes that there could be a congenital component to the condition.
Do I have sleep apnea? 
The standard symptoms to look for when determining if you or someone you know has sleep apnea are about what you would expect: snoring, frequent arousals, gasping for breath during sleep, morning headaches, excessive sleepiness. But it's also important to take note of out-of-the-box warning signs such as irritability, sexual dysfunction, lapses in memory and judgment, and accidents in the car, at work, or at home. Often, these problems are attributed to factors such as stress or old age, when in actuality they're the result of a lack of quality sleep.
It's the same with children, whose hyperactivity and inability to focus are commonly misinterpreted and mislabeled. "They don't really have ADD (attention deficit disorder) or ADHD (attention-deficit/hyperactivity-disorder); what they have is sleep apnea," Dr. Castriotta says.
This is why getting examined by a doctor to identify the cause of these issues is so critical. The most thorough means of screening for sleep apnea is a polysomnogram (PSG). The "gold standard," as Dr. Castriotta calls it, a PSG is an overnight study conducted at a sleep clinic, which is often set up like a hotel suite ( albeit one where there are electrodes attached all over your body, and where there are infrared cameras, two-way phones, and a command center close by to monitor and document every move you make).
"The test is quite extensive," Dr. Castriotta explains. "We measure every breath that's taken. We measure brain waves and oxygen levels. We measure how much carbon dioxide is being put out, and how much is in the blood. We measure the chest and the abdomen to look at effort. We measure the muscle tone of the chin, chest and legs. And after the eight hours or so of sleep, the data is then analyzed and interpreted by a physician to come up with a final diagnosis."
While there are at-home tests that can be done, Dr. Castriotta warns that such tests often measure only chest movements and oxygen levels; they don't measure sleep — what stages of sleep are reached and how much time is spent in each — making them susceptible to false positives and false negatives.
Courses of action 
Once sleep apnea is diagnosed, the key is to identify the appropriate treatment that fits the particular individual. While the disorder is often cured in children by a tonsillectomy or adenoidectomy, the main treatment for adults with OSA is Continuous Positive Airway Pressure therapy (CPAP), a machine that gently blows air into a mask worn over the nose and/or mouth during sleep. "It is a glorified air compressor," Dr. Castriotta says. "What it does is set up a column of air in the upper airway, preventing that airway from collapsing, allowing you to breathe all night." At its best, CPAP totally reverses the cause of the condition and eliminates the apnea.
Ninety-eight percent of OSA cases can be managed with CPAP, Dr. Castriotta notes, making it the most effective method available. A similar, yet more sophisticated, machine known as Adaptive Servo-Ventilation (ASV) is frequently used to combat Central and Complex Sleep Apnea and the challenges they present.
Despite its effectiveness, not everyone is able to comfortably adjust to CPAP. Some struggle with the air rushing into their nose and mouth. Others find it hard to sleep with a mask strapped tightly to their face. Whatever the reason, there are second-line treatments available that, in spite of their lower hit rates, can still prove to be just as successful.
One course of action is surgery. Uvulopalatopharyngoplasty (or UPPP, for sanity's sake), and its cousin, laser-assisted uvulopalatoplasty (LAUP), are operations that remove tissue from the throat to keep the upper airway unobstructed. While these two are the most common procedures conducted, Dr. Castriotta cautions that they are seldom effective in curing anything more than mild OSA. The best surgical option, he says, is maxillomandibular advancement (MMA), in which the upper and lower jaw bones are advanced forward approximately 10-12mm, thus expanding the upper airway and making it easier to breathe.
For people who are either not candidates for surgery or who do not wish to deal with the inherent risks and recovery that accompany it, another approach is to have a custom oral appliance made for wear during sleep. Mimicking the positioning tactics of MMA, these mouthpieces push the jaw forward to keep the airway open throughout the night.
These second-line options come with no guarantees, though, which is why Dr. Castriotta urges patients to have another polysomnogram two to three months after having surgery or after they've begun wearing their dental appliance, as a PSG is the only way to truly know if the treatment is working.
Sleep better, feel better 
Though it often gets taken for granted, sleep is an integral component of our health and wellbeing. It is rejuvenating and restorative. It is vital for optimal cognitive function, memory consolidation and disease prevention — not to mention public safety; when we go through the world sleep deprived, we potentially put other innocent people at risk.
As someone who got by on (much) less than a good night's sleep for a long time, I can attest to the bleary-eyed cost of doing so. And that's what makes getting diagnosed and treated for sleep apnea so crucial — once you do, in addition to all of the obvious health benefits, you open yourself up to a whole new normal.
"Your life should change significantly for the better," Dr. Castriotta says. "You should have more restful sleep, with better sleep consolidation. You should be able to function better during the day. You should be brighter and sharper, and you should just feel better overall."