Despite illness, patient walks daughter down the aisle thanks to doctor
Written by:
Zen Zheng, Office of Public Affairs
| Updated:
March 3, 2014
Related Healthcare Providers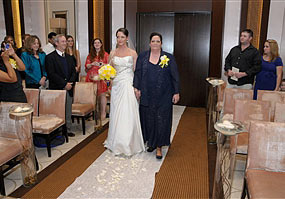 Kim James was counting down to the big day when she would walk her daughter Kelci Baez down the aisle in Las Vegas.
But James had been puffing and gasping for a month now. An acute exacerbation of her chronic obstructive pulmonary disease, or COPD for short, was dimming her hope of being part of Baez's wedding as the event neared.
Her condition didn't improve much despite several clinic visits. Nor was hospitalization an option for her, she said.
"It was very important to my daughter that I hand-make her veil, which is a family tradition," James recalls. "I had almost four weeks of beading work to do on her veil when I got ill. I couldn't have done this if I were in the hospital."
With four days to the wedding, James called the airlines for help, only to be told she couldn't get on a plane without a doctor's permission.
An immediate call to the UT Physicians Bayshore Family Practice Center and she was seen the same day by Kristy Bai, M.D. Neither would Dr. Bai release her for air travel with her condition.
"But she didn't stop with just a 'sorry about that,'" James says. "Instead, understanding how important this event was to me, we brainstormed alternative options."
The solution: a portable oxygen concentrator and ground travel.
And Dr. Bai prayed with James.
"She wanted me to get well enough for Kelci's wedding," she says.
The oxygen machine was overnighted to her door, and with her other two daughters, James set off a three-day road trip to Las Vegas.
With her shortness of breath, she had to rent a motor scooter to get around upon arrival. But on the day of the wedding, she managed to leave the scooter behind and take off the oxygen machine.
"I did it; I walked Kelci down the aisle," she says. "And as a plus, I got to spend so much time with my daughters who did the driving, and I had seldom had such a chance."
The story of her daughter's wedding isn't complete without Dr. Bai's part, James says, describing her as "one in a million."
"I can't thank Dr. Bai enough; she went above and beyond in helping me. She touched my life," she says, adding that the incident was just a highlight in Dr. Bai's consistent care for her as a patient.
A new resident of the Deer Park area, James notes that she hadn't established a long-term relationship with Dr. Bai as her primary physician.
"Yet she listened and did everything in her power as if she had been my doctor for years," she says. "I've seen many doctors, and Dr. Bai's care is what you read about and don't get to experience very often. She's just one step of being a throwback to the days when doctors made office calls."
Dr. Bai says it was natural for her to put herself in a patient's shoes.
"I couldn't imagine not attending a daughter's wedding. That wouldn't be an option," she says. "It was such a special occasion, and I would have wanted my mother to be at my wedding."
Dr. Bai says she remembered seeing James "huffing and puffing from even walking a short distance from the parking lot to our clinic building."
"Her COPD exacerbation was quite significant, and I was concerned about a long flight to Las Vegas," she says.
COPD is a chronic lung disease that causes difficult breathing. An acute exacerbation is the worsening of the condition usually with inflammation. Left untreated, Dr. Bai says, the condition can be life-threatening.
Steroid-based medications, inhalers, and sometimes adding oxygen are common treatment options, as in James' case, Dr. Bai says.
She called James' compliments humbling.
"I'm very grateful to my patient for the kind words. It's a good validation of what we do, but I can't say I deserve it," she says. "Honestly I didn't know I did anything out of the ordinary. I did what other physicians would have done."
Dr. Bai, family and community medicine specialist, is one of the more than a dozen primary care physicians at the UT Physicians Bayshore Family Practice Center, which also encompasses a broad range of specialty care.
The center, 11452 Space Center Boulevard, serves southeast Houston and the Bay Area including Clear Lake, League City. and Deer Park. For appointments, please call 713.486.6200.