Keyhani brothers join cardiothoracic and vascular surgery department
Written by:
Caliann Ferguson, UT Physicians
| Updated:
June 15, 2020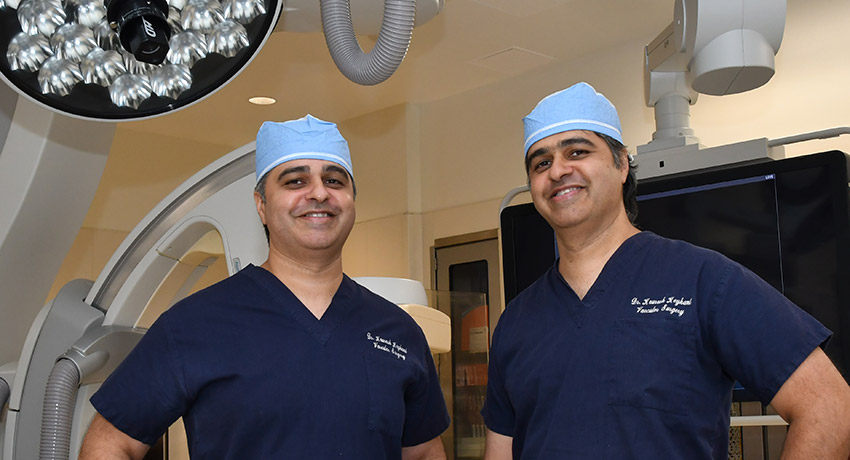 Related Healthcare Providers
UT Physicians is pleased to welcome vascular surgeons and brothers, Arash Keyhani, DO, and Kourosh Keyhani, DO, to the practice.
Both board-certified, the brothers completed their doctorate of osteopathic medicine at the University of North Texas Health Science Center, followed by residency training in general surgery here in Houston at UTHealth.
After his residency, Arash Keyhani moved out of state to complete additional vascular residency training at the University of California Los Angeles and studied under the pioneer of endovascular surgery, Rodney White, MD.
Staying in Houston for a vascular surgery fellowship, Kourosh Keyhani trained with the Department of Cardiothoracic and Vascular Surgery at McGovern Medical School at UTHealth under the leadership of Hazim J. Safi, MD.
Both brothers are eager to deliver high-quality care to the Greater Houston area.
"Each of us bring years of experience to the department by providing cutting-edge and innovative vascular surgery techniques for the Houston community," said Arash Keyhani.
The Keyhani brothers will see patients at the UT Physicians Cardiothoracic & Vascular Surgery II – Memorial City and UT Physicians Cardiothoracic & Vascular Surgery – Greater Heights locations.
As the clinical practice of McGovern Medical School at UTHealth, UT Physicians has locations across the Greater Houston area to serve the community. To schedule an appointment, call
888-4UT-DOCS
. For media inquiries, please call
713-500-3030
.