Dan Blackstock, BGS, RHIT, patient business manager for UT Physicians Family Practice -Bayshore, has channeled his love for hanging Halloween and Christmas lights into something a bit more powerful.
He decided to string pink lights on a neighborhood bridge in honor of Breast Cancer Awareness Month during October to honor survivors, those currently fighting, and in memory of those who lost their battle with the disease.
The cause is near and dear to Blackstock because his wife is a breast cancer survivor. He's also witnessed colleagues, neighbors, and friends receive the diagnosis, including a colleague at UT Physicians.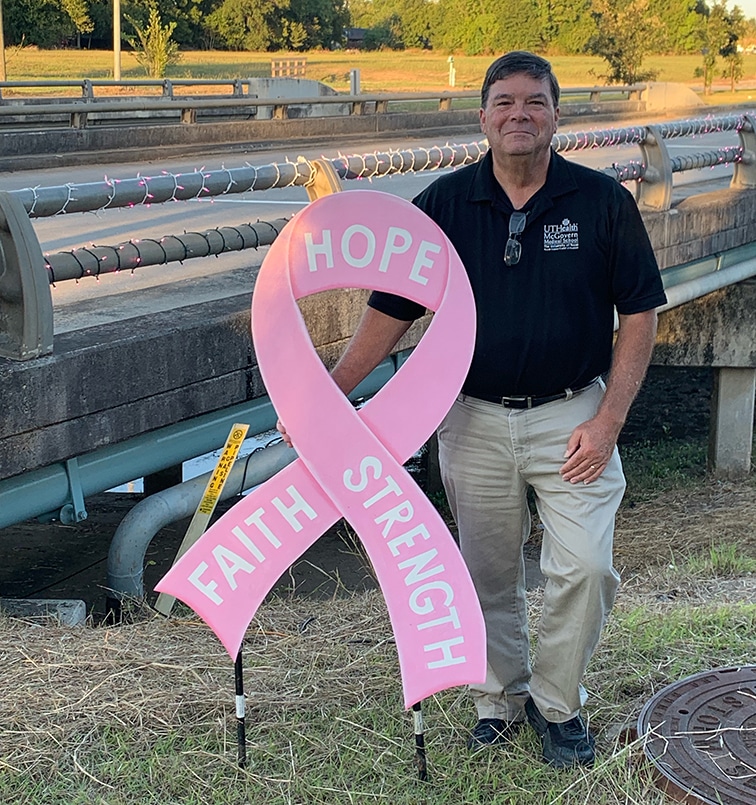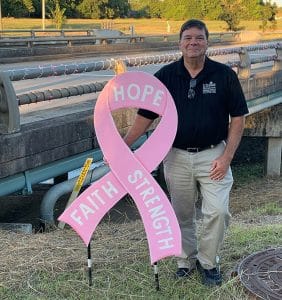 "It's a powerful yet simple statement symbolizing our support of breast cancer patients, survivors, and their families," said Blackstock. "I hope people realize they are not alone in their fight when they see it. So many people are standing behind them every step of the way."
Once Blackstock decided to light up the area bridge pink, he put a request on the NextDoor app requesting donations of pink lights. The response was overwhelming. Blackstock collected enough donated lights to cover a two-sided bridge: 400 feet of lights. He's already decided it will be an annual event.
This wasn't the first time Blackstock hung lights in honor of an observance other than a holiday. When the war in Ukraine broke out, he collected yellow and blue lights and decorated the same bridge as a symbol of support for those impacted by what was happening across the globe.
The COVID-19 pandemic inspired the whole idea of hanging lights on the neighborhood bridge on Fuqua. Blackstock decided it would be a meaningful gesture to string lights in honor of loved ones who died due to the pandemic.
"It gave the neighborhood something constructive to do during a challenging time," said Blackstock. "Together, we created beautiful strands of different colored lights, representing the lives we lost to COVID."
The bridge caught the attention of KHOU-TV Channel 11, who did a story on the bridge.
But Blackstock is not about the publicity. Instead, he spearheads these projects to unite people around a common purpose.
"The one thing I want people to receive from these light displays is a ray of hope during their darkest times," he said.