Lowe honored with national sports physician award
Written by:
Rob Cahill, UTHealth
| Updated:
April 25, 2014
Related Healthcare Providers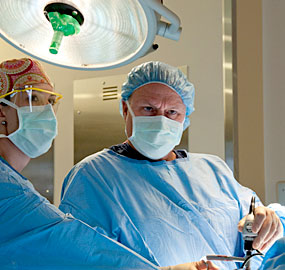 Walt Lowe, M.D., UT Physicians orthopaedic surgeon and chief of orthopaedics at Memorial Hermann-Texas Medical Center, has been recognized for his contributions to sports medicine by the American Physical Therapy Association (APTA).
Dr. Lowe received the Jack C. Hughston Sports Physician Award from the APTA's Sports Physical Therapy Section at a Feb. 5 meeting in Las Vegas. Hughston, who is widely recognized as one of the fathers of sports medicine, died in 2004.
"Dr. Lowe's selection was based on his many contributions to the sports physical therapy community," said Dr. Barbara Sanders, chair of the award committee of the APTA's Sports Physical Therapy Section.
Dr. Lowe has been treating Houston's top professional and college athletes for more than a decade and is a team physician for the Houston Texans and Houston Rockets, as well as the University of Houston. Dr. Lowe specializes in the care of injured knees, shoulders, and elbows.
Dr. Lowe also is chair of the UTHealth Medical School Department of Orthopaedic Surgery and medical director of the Memorial Hermann IRONMAN Sports Medicine Institute.
APTA is an individual membership professional organization representing more than 85,000 member physical therapists, physical therapist assistants and students.