Lowe honored as outstanding NFL team physician
Written by:
Jonathan Garris, UTHealth
| Updated:
March 9, 2018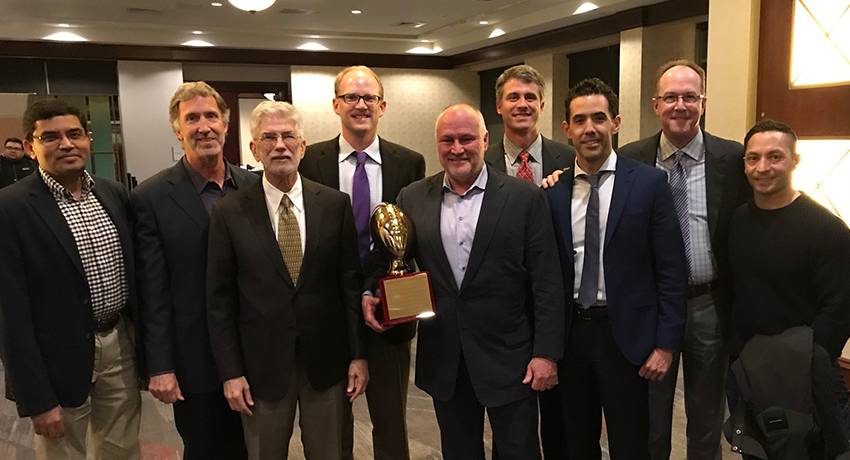 Related Healthcare Providers
The Professional Football Athletic Trainers Society (PFATS) honored Walter Lowe, M.D., UT Physicians orthopedist and head team physician for the Houston Texans, as this year's most outstanding NFL team physician with the 2018 Jerry "Hawk" Rhea Award.
Lowe, chair and professor of the Department of Orthopedic Surgery at McGovern Medical School at UTHealth accepted the award during a ceremony March 1 at the NFL Physicians Society's (NFLPS) annual Scientific Meeting and Symposium during the NFL Scouting Combine. The Jerry "Hawk" Rhea Award for Outstanding NFL Team Physician is presented annually by PFATS to a member of the NFLPS. First awarded in 1988, it is named for Jerry Rhea, Head Athletic Trainers for the Atlanta Falcons from 1969 to 1994 and Assistant to the President of the Falcons from 1994-2001. In 1998, Jerry Rhea became the first winner of the Fain-Cain Memorial Award for outstanding NFL Athletic Trainer, awarded annually by the NFL team physicians.
Lowe also serves as chief of orthopedic surgery at Memorial Hermann-Texas Medical Center and LBJ General Hospital.  He serves as the medical director of the Memorial Hermann Ironman Sports Medicine Institute and is the head team physician for the University of Houston Cougars, Houston Rockets, and several area high schools including the North Shore Mustangs and B.F. Terry Rangers.
Lowe received his medical degree at McGovern Medical School and completed his internship at John Peter Smith Hospital and residency at Tarrant County Affiliated Hospitals in Fort Worth, TX. He completed a fellowship at the renowned Kerlan-Jobe Orthopedic Clinic in Los Angeles. Lowe spent a year studying under the famous sports medicine baseball surgeon Dr. Frank Jobe.
In a press release, James Collins, president of PFATS, congratulated Lowe for his award.
"Dr. Lowe has been a dedicated and loyal team physician for the Houston Texans," Collins said. "He's a respected member of the NFLPS, a great representative for the NFL and he continues to be an advocate for the members of PFATS."
As the clinical practice of McGovern Medical School at UTHealth, UT Physicians has locations across the Greater Houston area to serve the community. To schedule an appointment, call
888-4UT-DOCS
. For media inquiries, please call
713-500-3030
.