May: Hepatitis Awareness Month
Written by:
Carlos Gonzalez, UT Physicians
| Updated:
May 15, 2015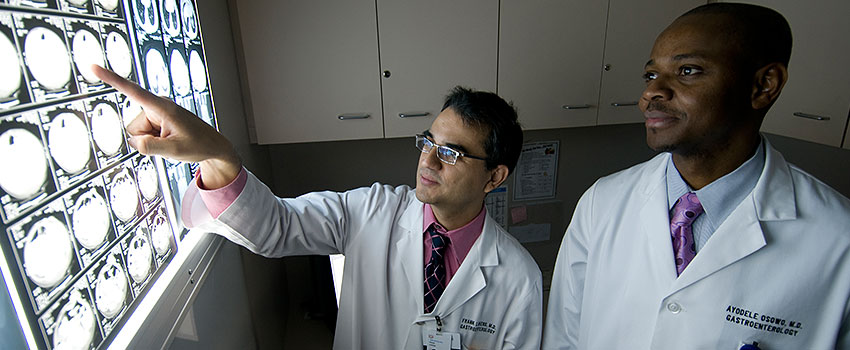 Related Healthcare Providers
The month of May has been designated as Hepatitis Awareness month, and it is important to recognize the Center for Disease Control's Division of Viral Hepatitis, which is spearheading a national campaign called "No More Hepatitis." The campaign intends to increase awareness of chronic viral hepatitis that can lead to cirrhosis and liver cancer.
The word "hepatitis" means liver inflammation and can be caused by multiple pathologies. Hepatitis is most often caused by one of several viruses, which is why it is often called viral hepatitis. In the United States, the most common types of viral hepatitis are Hepatitis A, Hepatitis B, and Hepatitis C.
Of the three viruses, only Hepatitis A and B are preventable through vaccination. Hepatitis C and B can and usually lead to chronic lifelong infections and unfortunately are asymptomatic. It is important that physicians recognize patients at increased risk for these infections and test for them accordingly.
Risk factors for Hepatitis C infection include anyone who has used intranasal or intravenous drugs, anyone with HIV/AIDS, anyone that have received blood products before 1992, anyone born between 1945–65, healthcare workers exposed to blood (needlestick or injury with sharp object), anyone on hemodialysis, and anyone born to HCV mothers, says Moises I. Nevah, M.D., UT Physicians gastroenterologist and assistant professor of internal medicine, Division of Gastroenterology at the UTHealth Medical School.
Screening for Hepatitis B infection is recommended for injection-drug users, men who have sex with men, persons with elevated liver enzymes of unknown etiology, persons with selected medical conditions who require immunosuppressive therapy, pregnant women, infants born to HBsAg-positive mothers, household contacts and sex partners of HBV-infected persons
In 2013, the U.S. Preventive Task force released new recommendations on Hepatitis C (HCV) screening. The recommendations included offering a one-time screening for HCV infection to all adults born between the years of 1945 and 1965, the "baby boomers." This stemmed from a multicenter population-based study that identified that nearly 70 percent of those infected with Hepatitis C were born between the years of 1945–65.
"Any medical provider should offer a one-time HCV test to every patient in this cohort," Dr. Nevah says.
Since then, the Department of Internal Medicine's Division of Gastroenterology, Hepatology, and Nutrition and its partner Memorial Hermann Hospital with the support of Gilead's FOCUS fund, initiated a Memorial Herman System-wide study providing HCV screening to all emergency room patients born between the years of 1945–65. The study is funded for three years with the possibility of expansion based on results.
In the first year of the study, 2013, 1,870 patients were screened. Ten percent of the patients tested positive for Hepatitis C, and of these patients 54 percent were a new Hepatitis C diagnosis. The study is still ongoing and has identified many other patients who otherwise would have never known of the infection.
"Each new patient with a diagnosis with HCV is being counseled about the virus and also given the opportunity to be evaluated at the Texas Liver Center or other facility with capabilities of treating the virus," Dr. Nevah adds.
It is estimated that close to 3.5 million people are infected with Hepatitis C in the United States and nearly 75 percent of them are unaware of their infection. HCV still remains the leading cause of liver cancer and liver transplantation in the United States. Unlike many other viral infections, HCV is "curable," with current FDA approved treatments at a 90 percent cure rate.
Patients testing positive and any other patient diagnosed with viral hepatitis can be referred to the Ertan Digestive Disease Center at Memorial Hermann-Texas Medical Center and Texas Liver Center, 713.704.3450, fax: 713.704.9938.