Brain Night for Kids set for March 20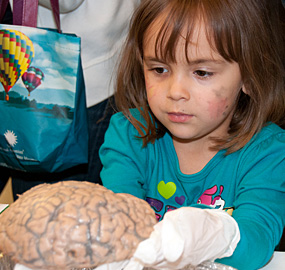 Brain Night for Kids at The Health Museum will be held 6-8 p.m., Thursday, March 20 at 1515 Hermann Dr.
A part of International Brain Awareness Week, Brain Night for Kids is a free event packed with several activities for kids and sponsored by the UTHealth Neuroscience Research Center.
Demonstration topics range from bike-helmet safety, brain reflexes, eye-hand coordination and comparing brains of different species. Children are encouraged to build their own nerve cell with pipe-cleaners and get a face painting of a nerve cell or brain.
In addition, families have the opportunity to handle an actual human brain, one of our most popular demonstrations. At the close of the event, children receive souvenirs and walk away with an eagerness to learn more about the brain.