Castriotta to lead Pulmonary Fibrosis Foundation Care Center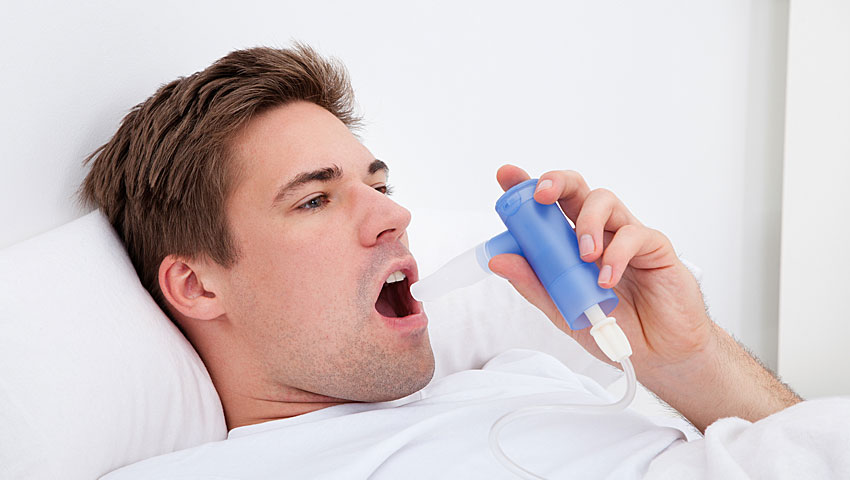 Related Healthcare Providers
The University of Texas Health Science Center at Houston (UTHealth) has teamed up with 39 other health sites across the country to combat a life-threatening lung disease called pulmonary fibrosis.
UTHealth was recently selected as a member of the Pulmonary Fibrosis Foundation's (PFF) Care Center Network. As part of the network, UTHealth will have access to resources for patients, caregivers, physicians, and scientists and will collaborate with other sites across the country.
UTHealth is the only member institution in the Texas Medical Center and one of only three in the Lone Star State.
"We are grateful that the Pulmonary Fibrosis Foundation has acknowledged the quality of our programs and the expertise of our medical staff in treating patients with fibrotic lung disease," says Richard J. Castriotta, M.D., medical director of the newly designated PFF Care Center at UTHealth and UT Physicians pulmonologist.
Pulmonary fibrosis is a scarring of the lungs from lung disease that worsens over time. It reduces the amount of oxygen in the bloodstream and is associated with shortness of breath. It may be caused by some 200 different lung diseases.
These are called "interstitial lung diseases" because they affect the basic lung tissue itself, rather than just the airways as in asthma and bronchitis. Since this scarring or fibrosis makes the lungs smaller and stiffer, they are called "restrictive lung diseases" rather than the better known "obstructive" lung diseases such as chronic obstructive pulmonary disease, emphysema, asthma.
"This is a very exciting time to be caring for people with interstitial lung disease/pulmonary fibrosis, because of recent advances in the diagnosis, treatment and overall management of these patients," Dr. Castriotta says.
"The newly approved drugs offer the possibility of effective treatment for the first time, and there are a large number of other new medications under development and in the pipeline for future use," he says. "Newly focused attention on these diseases holds promising hope for relief for countless people who suffer from shortness of breath, difficulty breathing, unrelenting cough, and the prospect of early death."
In addition, advances in high-resolution chest imaging have made it possible to make a diagnosis without a biopsy, and surgical advances now enable minimally invasive lung biopsy when needed, Dr. Castriotta says. Surgical and post-operative management advances have made lung transplants available to older and sicker people, who would not have been considered for transplant in the past.
"Pulmonary fibrosis is a fatal illness and lung transplantation is the only treatment option available at this time to extend life expectancy of patients. Being part of the PFF Center will provide an opportunity to improve care," says Soma Jyothula, M.D., who is a director at the center and assistant professor at UTHealth as well as medical director of the Lung Transplant Center at Memorial Hermann-Texas Medical Center.
Idiopathic pulmonary fibrosis (IPF) is the most common form of pulmonary fibrosis. "Idiopathic" means that the cause is unknown. This affects an estimated one in 200 adults over 65 years of age in the United States and claims as many as 40,000 lives a year.
Life expectancy after diagnosis of IPF is about the same as for lung cancer, and much worse than that for breast cancer, Dr. Castriotta says. Although it is most likely to affect older people, it may occur at any age and has a rare inherited form.
"We are fortunate to have secured the designation as a PFF Care Center. This will provide outstanding opportunities for our patients with pulmonary fibrosis and will aid our research efforts to find cures for this deadly disease," says Michael Blackburn, Ph.D., director of basic lung research at the center, the William S. Kilroy Sr. Chair in Pulmonary Disease and director of the Pulmonary Center of Excellence at UTHealth.
UTHealth's PFF Care Center includes the UTHealth Interstitial Lung Disease Clinic, a Pulmonary Rehabilitation Center, the Lung Transplant Center at Memorial Hermann-TMC and a pulmonary fibrosis patient support group. The PFF Care Center is staffed by experts in lung disease, heart and lung surgery, chest radiology and pathology from UTHealth and Memorial Hermann-TMC.
Other members of the PFF Care Center's leadership team include:
Bindu Akkanti, M.D., UT Physicians pulmonologist, medical director of the center's pulmonary rehabilitation program and assistant professor at UTHealth,
Maximilian Buja, M.D., director of pulmonary pathology at the center and professor at UTHealth,
Bela Patel, M.D., UT Physicians internist, director of critical care services at the center and associate professor at UTHealth and
Keshava Rajagopal, M.D., UT Physicians cardiothoracic and vascular surgeon, the center's lung transplant surgical director and assistant professor at UTHealth
The UTHealth Interstitial Lung Disease Clinic is in the UT Professional Building, 6410 Fannin, Suite 600, Houston, Texas, 77030. For appointments, call 832.325.7222.
Launched in 2013 by the PFF, the PFF Care Center Network is a growing group of medical centers that have proven experience and expertise in the care of patients with fibrotic lung disease. PFF Care Center Network sites work together to provide a standardized and comprehensive multidisciplinary approach to patient care, ensuring people with pulmonary fibrosis receive an accurate diagnosis, obtain quality clinical care and acquire important support services.