UT Physicians providers staff new TIRR Memorial Hermann facility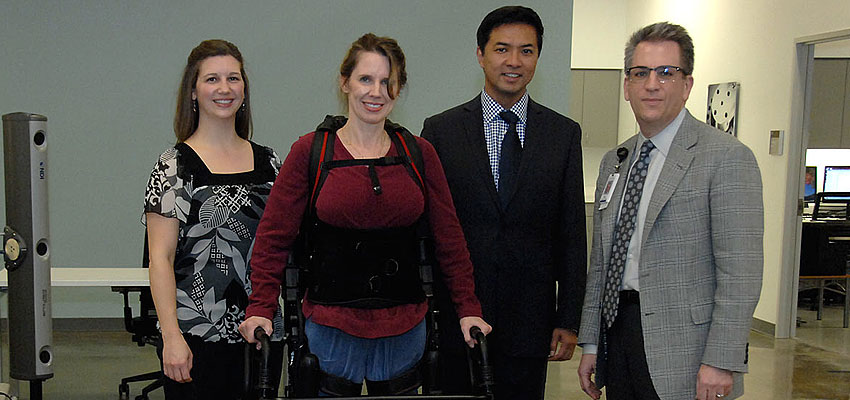 Related Healthcare Providers
Like many people with an often debilitating neurological condition called multiple sclerosis (MS), Kelly Davis, 45, of Pearland, has to use a walker to get around. Even short walks require a lot of effort.
Davis was thrilled when she learned that UTHealth and UT Physicians physical medicine and rehabilitation researchers were studying a way to help MS patients walk.
"I may have been one of the first to sign up," Davis said, after receiving the green light from her neurologist, Philip Blum, M.D., of Patient Centered Neurology and Memorial Hermann Health System. "This large robotic device called an exoskeleton is teaching my body how to walk again. It's like we're learning to dance together."
Davis was among those invited to a recent open house celebrating the relocation of the NeuroRecovery Research Center at TIRR Memorial Hermann to its new state-of-the-art facility.
"This is a collaborative project with clinicians, scientists and engineers from UTHealth, Rice University, and the University of Houston," says Gerard Francisco, M.D., director of the NeuroRecovery Research Center at TIRR Memorial Hermann and professor and chair of the Department of Physical Medicine and Rehabilitation.
The laboratories operated by UTHealth at the facility include:
Neuromodulation – Investigates the efficacy and efficiency of non-invasive brain and spinal stimulation on upper limb recovery function in patients with brain and spinal cord injury.
Neurorehabilitation – Studies pathophysiology of spasticity and the effects of non-invasive stimulation on neuropathic pain and recovery of sensory and motor function.
Neuro-Myo Engineering for Rehabilitation – Explores noninvasive electrodiagnosis and examination of neuromuscular diseases, and investigates motor unit alterations after neurologic injuries.
Motor Recovery Laboratory – Examines the effects of stimulation on neuromuscular plasticity and functional recovery and neuromuscular mechanisms of motor control and learning.
Robot-Assisted Rehabilitation – Studies and develops upper limb wearable exoskeleton for robot-assisted rehabilitation for patients with stroke and spinal cord injury.
Neural Interfaces Laboratory – Researches the interfaces connecting between human body and machine and develops its clinical application in physical rehabilitation using non-invasive technologies.
Center for Wearable Exoskeletons – Though support from Memorial Hermann Foundation, this center investigates novel applications of wearable robots for persons with spinal cord injuries and stroke.
"Each laboratory has its own research focus and can collaborate with other labs in the center," says Dr. Francisco, UT Physicians specialist and the chief medical officer at TIRR Memorial Hermann. "The center creates a new research environment that integrates advanced technologies, novel rehabilitation techniques and research methodologies in a rehabilitation hospital."
As many as 1 billion people worldwide are affected by neurological disorders, according to a 2007 report by the World Health Organization, which can limit their ability to speak, recall information or get around.
Davis was diagnosed with MS in 2005 after complaining of double vision and back pain. "By chance my husband, Ron, was participating for the first time in the MS 150 along with one of the neurologists he works with at The Neurology Center – Dr. Igor Cherches. Dr. Cherches was concerned about some of my symptoms and thought I might have a brain tumor or MS," she recalled.
As if the MS 150 was not enough of a coincidence, at the time of the diagnosis, her husband had just started working at The Neurology Center as a medical technician. Her struggle with MS is chronicled on a website she operates called yourjourneywithms.com
Davis' trial is supported by the National Multiple Sclerosis Society and includes walking training five times a week over a three-week period, said Shuo-Hsiu "James" Chang, P.T., Ph.D., principal investigator and an assistant professor.
"Many people with MS lose the ability to walk, and this has a big impact on their professional and personal lives," Chang said. "To help people with MS get back on their feet, we're using a wearable robotic exoskeleton created for people with spinal cord injuries."
Other patient studies include a project to increase the mobility of stroke and spinal cord injury sufferers.
Founded in 1959, TIRR Memorial Hermann is a national leader in interdisciplinary rehabilitation services, education, and patient care. Its patients include former U.S. Rep. Gabby Giffords who went through a rigorous rehabilitation program following a shooting.
To contact the NeuroRecovery Research Center at TIRR Memorial Hermann, please call 713.799.5000.
— Rob Cahill, Office of Public Affairs