Smalling receives master interventionalist designation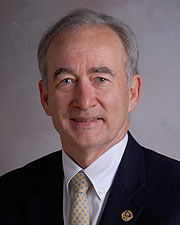 Richard Smalling, M.D., Ph.D., has been named to the new class of Master Interventionalists of the Society for Cardiovascular Angiography and Interventions (SCAI), the professional medical society for adult and pediatric invasive/interventional cardiologists.
Dr. Smalling, UT Physicians cardiologist, is professor and James D. Woods Distinguished Chair in Cardiovascular Medicine and holds the Jay Brent Sterling Professorship in Cardiovascular Medicine. He is director of Interventional Cardiovascular Medicine at Memorial Hermann Heart & Vascular Institute-Texas Medical Center.
"Master Interventionalist – or MSCAI – is a tremendous honor awarded a small number of SCAI Fellows, selected by their peers, as invasive/interventional cardiologists who have demonstrated leadership, clinical excellence and significant achievements over the course of their careers," said James Blankenship, M.D., M.H.C.M., 2015-16 SCAI President. "The MSCAI designation identifies the recipient is among the outstanding leaders and pioneers of our profession."
Master Interventionalists are recognized for their contributions to SCAI and the field of invasive/interventional cardiology.
Dr. Smalling, who has been on McGovern Medical School faculty since 1980, received his bachelor's and master's degrees from The University of Texas at Austin. He is a graduate of McGovern Medical School and received his Ph.D. from The University of Texas Graduate School of Biomedical Sciences at Houston.
His clinical and research interests include percutaneous aortic valve replacement, percutaneous mitral valve repair, advanced intravascular imaging procedures for coronary artery disease and early treatment of patients with acute myocardial infarction.
SCAI is recognized worldwide for its commitment to quality and education for enhancing the care of patients who suffer from all forms of congenital and acquired cardiovascular disease. The MSCAI recognition acknowledges outstanding SCAI members for a career achievement of excellence in patient care, teaching, research and innovation.
The Master Interventionalists, recognized annually, comprise no more than 5 percent of SCAI's membership. Those selected must have notable achievements in science, innovation, technical developments, teaching, leadership and the clinical practice of interventional cardiology, and have been an active member and Fellow of SCAI for at least 10 years. SCAI is a 4,500-member professional organization representing invasive and interventional cardiologists in approximately 70 nations.
— Deborah Mann Lake, Office of Public Affairs