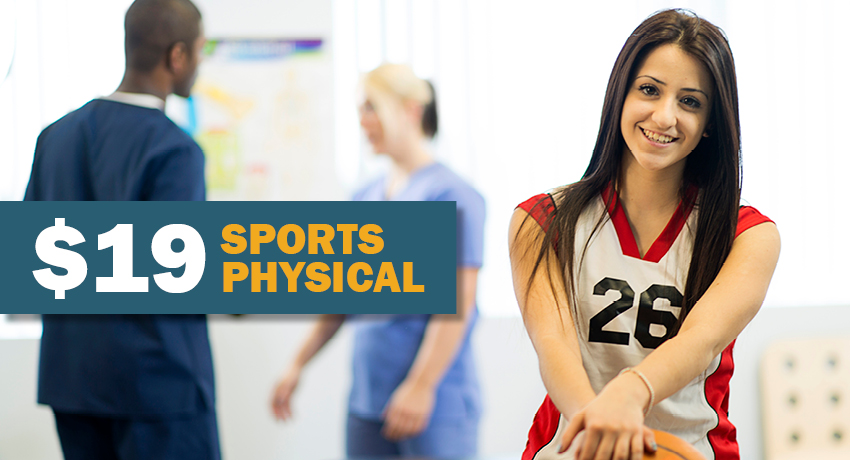 Beginning May 1, $19 sports physicals will be available at UT Physicians clinics across Southeast Texas.
"Participation in exercise-related activities such as school sports is an important part of an overall healthy lifestyle," said Thomas J. Murphy, M.D., assistant dean for health policy at McGovern Medical School at UTHealth and chief medical officer for community-based clinics at UT Physicians. "Minimizing the barriers to involvement in sports, including low-cost physical examinations, is an essential component to achieving increased participation."
To beat the fall rush, you can begin making appointments now. Sports physicals will begin after May 1. Call 888-4UT-DOCS.
*UT Physicians at The Heights
925 N. Shepherd, Houston, 77008
*UT Physicians Bayshore Family Practice
11452 Space Center Blvd., Houston, 77059
*UT Physicians – Bellaire Family Medicine
5420 Dashwood, Suite 100, Houston, 77081
UT Physicians – Beaumont
3610 Stagg Dr., Beaumont, 77701
*UT Physicians Health Center – Bellaire
6700 West Loop South, Suite 520, Bellaire, 77401
*UT Physicians Health Center – Cinco Ranch
23923 Cinco Ranch Blvd., Katy, 77494
*UT Physicians at Sienna Village
8810 Highway 6, Suite 100, Missouri City, 77459
*UT Physicians Greens Clinic
245 West Greens Rd., Houston, 77067
UT Physicians Pediatric Center – Cinco Ranch
10450 Spring Green Blvd., Suite B, Katy, 77494
*UT Physicians – Southwest
10623 Bellaire Blvd., Suite C280, Houston, 77072
UT Physicians – Rosenberg
5115 Avenue H., Suite 701, Rosenberg, 77471
UT Physicians – Jensen
2620 E. Crosstimbers St., Suite 100, Houston, 77093
UT Physicians Pediatric Teen Clinic at Dashwood
5420 Dashwood, Suite 102, Houston, 77081
*UT Physicians – Victory
7364 Antoine Dr., Houston, 77088
*Extended evening and weekend hours available
— Melissa McDonald, UT Physicians