Nurse Help Line serves vital, lifesaving role
Written by:
Melissa McDonald, UT Physicians
| Updated:
May 14, 2018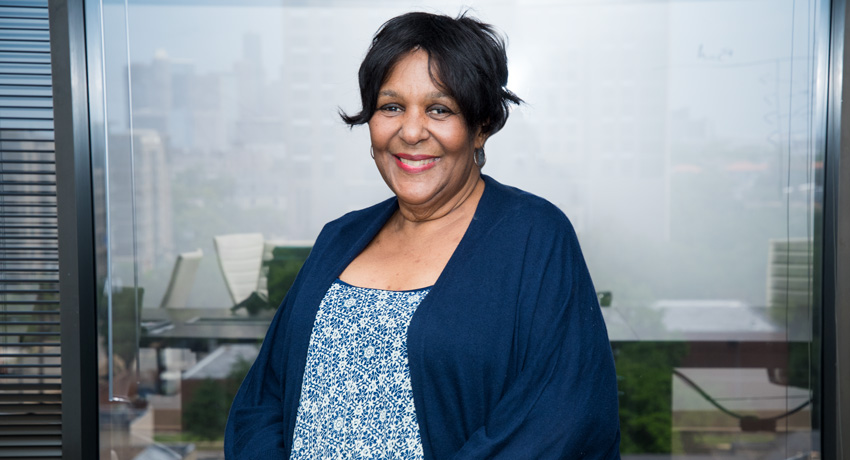 Reality. It hits without warning.
For Elease Jenkins, it was on March 16, 2018.
"I thought I was dying," says Jenkins, while wiping away tears from her eyes. "I remember thinking I was going to die and it was my grandson's birthday party later that day. I heard this voice saying she was calling 911. I heard her explaining that I needed to stay on the phone with her."
Just a short time before that, Jenkins started the day feeling short of breath. "I was having trouble breathing and felt extremely weak," she explains. "It started a few days earlier, but I didn't pay attention to it. I knew it was getting bad when I struggled to take two steps without getting winded."
When concern turned to worry, she called UT Physicians to make an appointment. After a patient access representative noted her symptoms, they transferred her to the 24-hour Nurse Help Line.
"The nurse triage line was started to provide 24/7 access for patients to address medical issues," says Tracy Fry-Longoria, R.N., B.S.N., M.B.A., chief ambulatory care officer for UT Physicians. "The team, led by Nurse Manager Robin Riggs, initially began with about 10 nurses and wasn't 24/7. It has grown to around 40 nurses and provides coverage 24/7.  They have become an integral part of our health care delivery model and provide an invaluable service to our patients. Almost all of the nurses employed in the unit are seasoned with backgrounds in the emergency room or intensive care unit."
That day, Ribi Kurian, R.N., answered the call from Jenkins. "I listened to her symptoms and advised her to go to the emergency room," Kurian recalls. "She didn't want to go to the emergency room. She said her grandson was celebrating his birthday that day and she didn't want to be gone that long. As I continued to listen, I felt something was not right. She was continuing to talk with me, but her answers were beginning to sound very vague."
What Jenkins didn't know—is that she was losing blood. She had a bleeding ulcer. While Kurian couldn't diagnose that over the phone, what she could evaluate led her to call emergency responders.
"I told her to stay on the phone with me," says Kurian. "She was able to make it outside to the driveway, but the ambulance arrived in the front of the home. The driveway is in the back of the home. Ms. Jenkins got very upset thinking they wouldn't find her. I assured her and explained that they would find her. I tried to provide a sense of calm for her."
Once emergency crews arrived on the scene, Jenkins handed the phone to them so Kurian could articulate everything that happened. She was transported to the hospital, rushed to surgery and spent three days recovering before being released.
"As soon as I got the call, I wanted to jump on a plane," says Kyle Jenkins, Jenkins' son who was in Thailand at the time.  "I am happy that she is okay."
His wife echoes that statement. "I am also thankful that the nurse didn't let her hang up the phone," says Nitaya Jenkins, Jenkins' daughter-in-law.
Following recovery, Jenkins reached out to UT Physicians to express her thanks for what Kurian did for her. "I didn't think it was as serious as what it was," she explains. "I didn't want to go to an ER and I almost hung up the phone. Had she not called 911 or if I had waited another day, I don't know what would have happened."
"The nurses bring critical experience to the team," Fry-Longoria says with pride. "It's amazing how much of an assessment can be done by listening to the callers. I am in awe of the work they have done and the countless numbers of patients they have helped."
Kurian says she will forever remember the experience. "I am just grateful and humbled by it," says Kurian in a soft voice. "I feel God used me as a tool that day."
As the clinical practice of McGovern Medical School at UTHealth, UT Physicians has locations across the Greater Houston area to serve the community. To schedule an appointment, call
888-4UT-DOCS
. For media inquiries, please call
713-500-3030
.