Endocrinologists and diabetes educators with UT Physicians are encouraging people with diabetes who are staying at home due to COVID-19 to redouble their efforts to eat properly, exercise, and monitor their blood sugar levels.
Diabetes is one of the underlying medical conditions that can increase a person's risk of getting very sick after contracting the fast-spreading contagious disease, according to the Centers for Disease Control and Prevention (CDC). COVID-19 causes illnesses in the respiratory tract.
The reassuring news is the American Diabetes Association (ADA) is reporting that if diabetes is well-managed, the risk of getting severely sick from COVID-19 is about the same as the general population.
Diabetes is a condition in which high blood sugar levels can weaken the immune system, and in the United States more than 100 million adults either have diabetes or are on the verge of getting it, the CDC reports.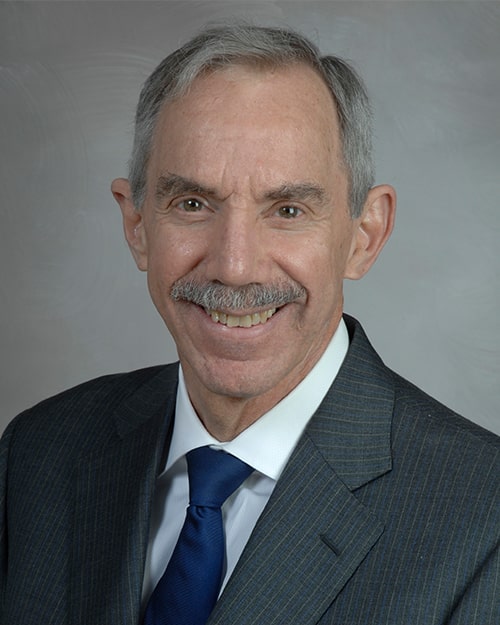 "People with diabetes should be vigilant in keeping their blood sugar well controlled," said Philip Orlander, MD, who sees patients at the UT Physicians Endocrinology – Texas Medical Center clinic and is the director of the Division of Endocrinology, Diabetes, and Metabolism at McGovern Medical School at UTHealth.
Orlander is advising his patients with diabetes to get their routine follow-up care over the phone. "Be prepared to give the physician as much information as possible by keeping a detailed log of sugars that can be sent in, as well as blood pressure, and an up-to-date medication list," Orlander said.
What are Orlander's patients with diabetes asking about? "Most of the questions relate to work situations and what they can do to avoid exposure. The answers are the same as for the general public," he said.
The ADA is reporting that the pandemic is not having an impact on insulin supplies at this time. "As in hurricanes or other events, patients should make sure they have an adequate supply today and call their doctor if they are at risk of running low," Orlander said.
Diabetes involves issues with insulin, a hormone regulating the body's blood sugar levels. People with Type 1 diabetes cannot produce insulin, and people with Type 2 cannot process the insulin properly.
"At this point, I do not see any difference in risk between the types of diabetes. The glucose (blood sugar) control is the most important factor regardless of type," said Orlander.
A new regimen is particularly important for people spending more time at home. "Anything that disrupts your regular routine will affect blood sugar levels. It is important to develop a new routine or schedule that allows you to keep control of when you're eating, when you're exercising, when you are working, and when you're relaxing."
Barbara J. Stoll, MD, dean and H. Wayne Hightower Distinguished Professor in the Medical Sciences at McGovern Medical School, said that taking care of personal well-being will help people face the challenges of today.
She recommends taking a 10-minute break after a couple of hours to just breathe or take a walk, listening to music that is uplifting for you, meditating, or just being quiet, for a few moments. Exercise is a great way to reduce stress, too.
At UT Physicians, Orlander and his fellow endocrinologists work closely with diabetes educators such as Laura Hayes, RN, CDE, who help patients stick to their self-care plans. She is the nurse manager of the UT Physicians Self -Management Diabetes Education Program which is recognized by the ADA.
"It's important for people with diabetes to stay physically active because that will lower their blood sugar levels," Hayes said. "I'm talking about ironing, sweeping, doing laundry, playing with kids. You have to keep moving."
Hayes said it would not be a bad idea for people with diabetes to use a fitness video at home.
Sticking to a diet that helps with blood sugar control can be challenging when spending a lot of time indoors but it can be done, Hayes said.
"If you can't get fresh, stock up on frozen vegetables, buy meat and other proteins that can be frozen. Canned tuna or peanut butter is part of a good meal. You want to limit carbohydrates such as beans, cereal, pasta," Hayes said. "Some carbs are fine but should not be the main component of a meal."
When it comes to testing blood sugar levels, follow the recommendation from your doctor and diabetes educator. Hayes said, "For people who must test, keeping track of the numbers can help you decide how much exercise or food you need."
Hayes said her advice applies to both children and adults. "If you have a child with diabetes at home, get out a workout game or dance video. As for food, everyone needs balance, and no one needs a lot of sugar."
Hayes said this is also a good time for people with diabetes to pull out those handouts they received from their diabetes educator and read them. "This may be one of those rare instances where people have time to read through their educational material," she said.
To help people with diabetes prepare for a possible extended stay at home, the ADA has issued the following recommendations.
Make a list of the phone numbers of your doctors, your pharmacy, and insurance provider.
Create a list of the medications and the doses you require (including vitamins and supplements).
Get extra refills of medicine so you do not have to leave the house.
Always have enough insulin for the week ahead.
Store extra supplies of rubbing alcohol and soap to wash.
Obtain extra ketone and blood sugar testing strips. Ketonesare chemicals produced by the liver when a body does not have enough insulin to turn sugar into energy.
Contact a doctor if you have the COVID-19 symptoms of fever, shortness of breath, and dry cough. When contacting your doctor, be sure to have your glucose and ketone readings ready. Also be clear on your symptoms and keep track of how much fluid you are drinking.
Hayes said existing UT Physicians patients with diabetes can consult with a certified diabetes educator (CDE) by contacting the clinic where they are seen.
The CDC reported that as of 2020, 34.2 million people in the U.S. – 10.5% of the national population – had diagnosed diabetes. Another 88 million have prediabetes, a condition that if not treated often leads to Type 2 diabetes within five years.