The duties of Luis Ostrosky, MD, as a key part of the pandemic response team for UT Physicians include keeping an eye out for infectious disease outbreaks, and late last year the deadly coronavirus (COVID-19) appeared on his radar.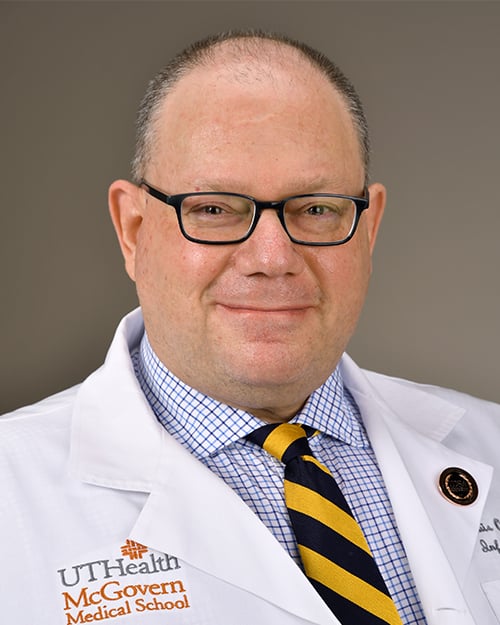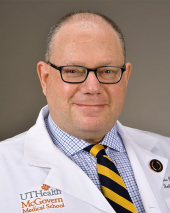 "We monitor and drill for these outbreaks and we were able to activate the procedures we already had in place," said Ostrosky, who also plays a critical role in the pandemic response plans for UTHealth. UT Physicians is the clinical practice of McGovern Medical School at UTHealth.
Infectious diseases remain a leading cause of death worldwide despite tremendous advances in vaccines and antibiotics. These life-threatening infectious diseases include acute lower respiratory tract infections, HIV/AIDS, diarrheal diseases, malaria, and tuberculosis.
For an infection to be elevated to the definition of a pandemic, it must be a first-of-its-kind illness and it must be spreading around the world. Doctors are particularly concerned about viruses that go from animals to humans such as COVID-19.
"Animals have lots of viruses and oftentimes they don't affect the animal," said Joseph McCormick, MD, the James H. Steele, DVM, Professor at the UTHealth School of Public Health in Brownsville. "The problem occurs when the virus is transmitted to people who don't have defenses against it."
Recent pandemics/epidemics have been linked to animals. For example, the 2003 SARS epidemic, which is closely related to today's coronavirus, is thought to be caused by bats. The 2009 H1N1 pandemic was associated with pigs, the 2012 MERS epidemic with camels, and the 2014 Ebola epidemic with bats as well.
Another similarity among these pandemics/epidemics is that they were caused by viruses, which can convert healthy cells into virus-producing machines.
"SARS was the first big wakeup call of the 21st century," McCormick said. "The deadly Spanish flu of 1918 took three to four months to work its way across the United States. SARS went from China to Canada in about a week."
In addition to the quick spread of infection due to globalization, these 21st century pandemics/epidemics reveal a big difference in the contagiousness of viruses, McCormick said.
"The SARS and Ebola epidemics were easier to contain because the symptoms were much more obvious. With coronavirus, people without symptoms can be transmitting the disease to others," said McCormick, who added that SARS and Ebola were contained to certain regions.
Charles Ericsson, MD, who sees patients at the UT Physicians Infectious Diseases-TMC clinic and is the Dr. and Mrs. Carl V. Vartian Professor in Infectious Diseases at McGovern Medical School, said the lessons learned from the H1N1 pandemic include the importance of flexibility and stockpiling medical supplies.
Ericsson said that when H1N1 started becoming resistant to one medication, doctors were able to switch to another one. The H1N1 pandemic also showed how stockpiling medical supplies ahead of time can lessen supply chain issues.
Information gleaned from these and other epidemics was incorporated in pandemic response plans developed by Ostrosky, who also sees patients at the UT Physicians Infectious Diseases-TMC clinic.
Key components of pandemic response plans include:
First alert system – "I monitor the World Health Organization and the major media outlets to help develop a risk assessment. I then update the pandemic response plan to address the particular problem," said Ostrosky, who also creates contingency plans. "I also look for gaps in the preparedness."
Patient screening system – To help caregivers identify patients with COVID-19, detailed descriptions of the symptoms of the coronavirus disease are quickly communicated in patient screening scripts for the different practices and affiliated hospitals.
Infection transmission route identification – Because COVID-19 is such a highly contagious airborne virus with a single cough spreading many droplets, the correct and situation-specific personal protective equipment for caregivers is essential.
System approach – Involving more than doctors and nurses, all components of an organization including administrators and support staff play a role in the response.
Drills – Simulation drills keep caregivers sharp and often involve scenarios based on previous epidemics.
Communication – Because developments in the prevention, diagnosis, and treatment of the coronavirus are changing quickly, it is important to keep all parties, both internal and external, apprised of the latest information.
"Each pandemic presents caregivers with unique challenges," said Ostrosky, professor of medicine and epidemiology and vice chair of healthcare quality at UTHealth.
Caregivers with UT Physicians and UTHealth School of Public Health are also working on ways to treat the disease and help those at risk.
Viral outbreaks are particularly hard to stop. Whereas doctors can combat bacteria with antibiotics, the treatment options for viruses are much more limited.
An effective way to prevent a viral infection is to build the body's natural immune system through vaccines. Doctors do that by exposing a patient to virus proteins, which in turn train the patient's natural defenses. Unfortunately, vaccinations for COVID-19 are 12-18 months away.
Another avenue of research and care is medical treatment. UTHealth is participating in a nationwide study involving the use of plasma donated by people who have overcome the coronavirus. The hope is that it can be used as a treatment to help with recovery from the disease.
McCormick's colleagues at UTHealth School of Public Health recently completed an analysis of areas in Texas where residents have a heightened risk of infection. These are areas with elevated levels of risk factors such as heart disease, history of stroke, obesity, chronic obstructive pulmonary disease (COPD), asthma, diabetes, and kidney disease.
Epidemics and pandemics will continue to affect public health in populations. Looking forward, Ostrosky said, "We need funding to shorten the time it takes to do an assessment as to the type of the epidemic. We also need to develop tests to detect the epidemic quicker and have more protective gear positioned ahead of time."
For more information and resources on COVID-19, visit the UT Physicians information center.