Promoting awareness for AAA
Written by:
Carlos Gonzalez, UT Physicians
| Updated:
May 18, 2016
Related Healthcare Providers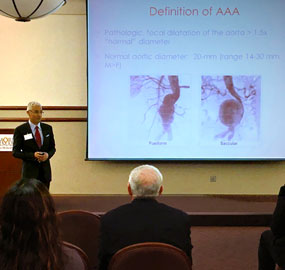 The risks and treatments for abdominal aortic aneurysm (AAA) for men were the focus of a recent event hosted by the American Heart Association and McGovern Medical School faculty at the Hermann Pavilion Conference Center at Memorial Hermann-Texas Medical Center.
Sponsored by Memorial Hermann, attendees received complimentary AAA screenings, heard presentations by McGovern Medical School faculty, and reviewed a world-renowned heart exhibit.
Kristofer Charlton-Ouw, M.D., FACS, UT Physicians cardiothoracic and vascular surgeon and McGovern Medical School associate professor of cardiothoracic and vascular surgery, explained risks and differences of AAA in men and women, predictors of mortality, risks of rupture, and the need for screening.
He discussed in detail the presentation, risk of rupture, and course of a recent patient who presented emergently with a ruptured aneurysm and whom he successfully treated.
The wife of that patient shared her family's experience with AAA as she described how her husband's aneurysm was discovered incidentally on an abdominal ultrasound while being checked for a kidney stone. "We attribute our ability to endure the events from past week to Dr. Ouw's compassion and patience as he took time to explain everything and walked us through every step of the way," she said gratefully.
Saroja Bharati, M.D., a world-renowned pathologist and an expert in the pathology of congenital heart diseases from Illinois, shared her exhibit of donor hearts — which were given to aid in research and understanding of heart disease. Introduced by Lance Gould, M.D., UT Physicians cardiologist and McGovern Medical School professor of cardiology and the Martin Bucksbaum Distinguished University Chair, he said, "She is a giant in her field. She is much taller than I am in the real world."
Heart disease is the number one killer of men and women in the United States. More than 22 percent of adolescents and young adults are affected by obesity, a major driver of heart disease and sudden death in the young, Dr. Bharati said.
The awareness campaign was led by members of the Houston chapter of the American Heart Association's Men in Red initiative, which is chaired by Alfie Meyerson.
Men Go Red is a society of dynamic men committed to having a significant impact on improving the health, well-being, and awareness of heart disease in the Houston community. Their mission is to use influence and resources to help find a cure for the No. 1 killer of both men and women: cardiovascular disease.