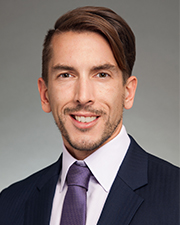 ---
Albert J. Fenoy, MD
Specialty:
Clinical Interests:

Deep Brain Stimulation, Surgical Intervention for Pain Management, Cervical Pain and Radiculopathy, Cervical Stenosis, Lumbar Radiculopathy
Board Certification:

American Board of Neurological Surgery

Education/Training
Medical School
State University of New York at Stoney Brook , 2002
Residency
University of Iowa Hospitals and Clinics , 2008
Fellowship
University of Iowa Hospitals and Clinics, 2009
---
Albert J. Fenoy, MD, is a board-certified neurosurgeon with expertise in deep brain stimulation for movement disorders such as Parkinson's disease, tremor and dystonia, and psychiatric diseases such as obsessive-compulsive disorder and depression. He also specializes in neuromodulation procedures for chronic pain, as well as surgery for neck and back degenerative disease, including minimally invasive techniques.
Dr. Fenoy received his undergraduate degree from Princeton University and his medical degree at the State University of New York at Stony Brook. He completed his residency in neurosurgery at the University of Iowa and went on to complete a fellowship in functional neurosurgery at the Centre Hospitalier Universitaire de Grenoble, France, in December 2008.
Dr. Fenoy is a member of Alpha Omega Alpha, the Congress of Neurological Surgeons and the American Academy of Neurological Surgeons. Also holding a faculty appointment in the Department of Psychiatry and Behavioral Sciences, Dr. Fenoy has been critical in developing at McGovern Medical School at UTHealth an FDA-approved clinical trial on the use of deep brain stimulation in treatment-resistant depression.
Dr. Fenoy has presented research at several national and international conferences that has subsequently been published in Clinical Neurosurgery, Journal of Neurosurgery, Brain Research, Neuromodulation, Stereotactic and Functional Neurosurgery, and Journal of Affective Disorders. His research has focused on the use of diffusion tensor imaging and optimization strategies for targeting in deep brain stimulation, on the electrophysiology of the basal ganglia and response to neuromodulation, and on biomarkers of response to neuromodulation therapy in treatment-resistant depression.