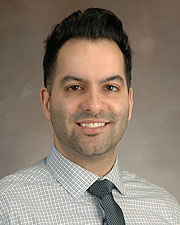 ---
Languages
English and Farsi
Kamran Boka, MD
Specialty:
Board Certification:

American Board of Internal Medicine
Internal Medicine
Pulmonary Disease
Education/Training
Medical School
Ross University School of Medicine, 2008
Residency
St. John Hospital and Medical Center, 2011
Fellowship
Henry Ford Hospital , 2015
---
Kamran Boka, M.D., M.S., works as an assistant professor at McGovern Medical School at UTHealth. as well as a pulmonary and critical care physician with UT Physicians. Dr. Boka strongly believes in developing relationships based on mutual trust, understanding, and clarity with his patients to ensure a treatment and recovery process that is both professional and personal.
"We must strive to get to know our patients as people first. For us as doctors, we must see beyond the illness and disease and know the whole patient whom we are treating." explained Dr. Boka,
Born and raised in Kentucky, Dr. Boka's pursuit of medicine has afforded him the opportunities to live in a multitude of cultural and socioeconomic locales throughout North America, including Miami, New York City, Atlanta, and Detroit. He has also lived in the Caribbean island nation of Dominica. Dr. Boka's recent move to Houston marks a return to his southern roots. No stranger to ethnic and cultural diversity, Dr. Boka has embraced the Houston experience, relishing the old Texas charm blended with one of America's most innovative and diverse cities.
Dr. Boka's specialized pulmonary interests include asthma and obstructive lung diseases (emphysema and COPD) and general pulmonology cases (nodules, chronic cough, shortness of breath). His critical care interests are post-ICU syndrome (of which he is now taking clinic patients), sepsis, and acute respiratory distress syndrome. Dr. Boka has conducted and reviews a wide range of research with focus on online medical education using various platforms, social media as an enhanced communication tool for physicians, and mobile application development to foster medical education and connection.
As a consummate seeker of better and more efficient ways to reach his patients as well as promote the work of his fellow colleagues, Dr. Boka currently oversees the Division of Critical Care's innovative initiative to embrace the social media medium. His work does not stop at the bedside, Dr. Boka is a passionate educator who believes in a dedicated effort of further educating junior physicians on how to listen to patients, their needs, and desires, and that technology should only be used to augment and supplement the human touch.
An active sketch artist with preferred media of ink and pencil, Boka spends his free time creating through paper and digital tools. He enjoys martial-arts, cooking, and traveling with his beautiful wife Bita.
"Creativity is not just pen to paper; it's manifested throughout our lives. We must be creative, we must find a way to employ our empathy and our knowledge so that these two within us may become a tool, forged to fit the patient's needs, desires, and concerns. We must understand the human condition, and we must treat and serve in a manner that never forgets this."
Pulmonary Diseases
• COPD / Emphysema
• Chronic Bronchitis
• Chronic Cough
• Asthma
• Pulmonary Fibrosis
• Pulmonary Nodules
• Preoperative Pulmonary Evaluation
Critical Care
• Post-Intensive Care (ICU) Syndrome
• ICU-Acquired Weakness