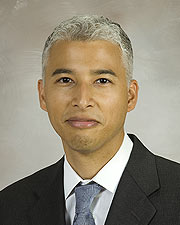 ---
Kristofer M. Charlton-Ouw, MD
Specialty:
Clinical Interests:

Vascular & Endovascular Surgery, Aortic Aneurysms, Carotid Artery Disease, Hemodialysis Access, Peripheral Arterial Disease including Lower Extremity Ischemia and Wound Management, Intestinal Arterial Disease (Visceral Artery Aneurysm Surgery, Endarterectomy, and Bypass Surgery), Aortic Graft Infections (Antibiotic Bead Placement/Management), Spinal Exposure Procedures, Vena Cava Filter (Placement and Retrieval), Vascular Surgical Research
Board Certification:

American Board of Surgery
Surgery
Education/Training
Medical School
Harvard Medical School, 2002
Residency
New York Presbyterian Hospital, 2007
Fellowship
The Methodist Hospital, 2008
Fellowship
University of Texas Health Science Center at Houston at Houston, 2010
---
Dr. Kristofer Charlton-Ouw is an Associate Professor in the UT Department of Cardiothoracic and Vascular Surgery. He is co-director of the department's Clinical Science Program and Director of the Vascular Laboratory. He is interested in clinical trials to improve evidence-based practice and is the principle investigator of several sponsored- and investigator-initiated clinical trials. His clinical and research interests include aortic aneurysm and dissection, prosthetic graft infection, hemodialysis access, peripheral arterial disease, and postoperative pain control.
AWARDS:
2015 Excellence in Research Award
2014, 2015 Top Doctor in Vascular Surgery, Houstonia Magazine
LOCAL:
2007-Pres. John Jones Surgical Society
2010-Pres. Harris County Medical Society
2013-Pres. Houston Surgical Society
REGIONAL:
2010-Pres. Texas Medical Association
2013-Pres. Southern Association for Vascular Surgery
NATIONAL:
2007-Pres. American Medical Association
2010-Pres. Society for Vascular Surgery
2010-Pres. Society for Clinical Vascular Surgery
2011-Pres. Fellow, American College of Surgeons
2011-Pres. Society for Vascular Ultrasound
2013-Pres. American Heart Association
2013-Pres. Vascular and Endovascular Surgery Society
2014-Pres. Society for Medical Decision Making
INTERNATIONAL:
2014-Pres. European Society for Vascular Surgery
2015-Pres. International Society for Pharmacoeconomics and Outcomes Research
2015-Pres. International Society for Quality of Life Research