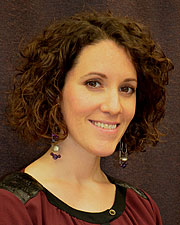 ---
Leorah A. Freeman, MD, PhD
Specialty:
Clinical Interests:

Multiple sclerosis (MS), neuromyelitis optica (NMO), immune-mediated neurological disorders
Education/Training
Medical School
University of Paris, 2009
Residency
Assistance Publique Hopitaux de Paris, 2008
Fellowship
GH Pitié-Salpêtrière, 2012
Fellowship
University of Texas Health Science Center at Houston, 2016
---
Léorah Freeman, M.D., Ph.D. is an assistant professor of neurology in the Multiple Sclerosis Research Group and the Magnetic Resonance Image Analysis Center at McGovern Medical School.
Dr. Freeman received her doctorate of medicine, as well as her doctorate of philosophy in neurosciences from Université Pierre et Marie Curie in Paris.
Following a residency in neurology, she completed a 2-year clinical fellowship specializing in the diagnosis, management and treatment of multiple sclerosis (MS) and other neuroimmunological disorders of the central nervous system at La Pitié Salpêtrière hospital in Paris.
Dr. Freeman went on to complete her post-doctoral research training in neuroimaging at the Brain and Spine Institute in Paris and subsequently in the Department of Neurology at McGovern Medical School in Houston. Her research has been funded by the French National Institute of Health (INSERM), as well as the National Multiple Sclerosis Society (NMSS).
Dr. Freeman's current research focuses on the application of advanced imaging techniques to explore and delineate the mechanisms driving disability progression in MS. She is also deeply committed to the development of new technology to bring state-of-the-art MRI analysis to the bedside.