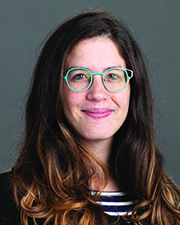 ---
Melissa G. Goldberg, PSY-D

Specialty:
Education/Training

University of Denver, 2015
---
Melissa Goldberg, PsyD, is a clinical assistant professor in the Department of Psychiatry and Behavioral Sciences. As a licensed clinical psychologist, she provides services to children and adolescents who are dealing with the aftermath of traumatic experiences. Dr. Goldberg is trained in evidence-based therapeutic interventions, including Dialectical Behavioral Therapy (DBT), Cognitive Processing Therapy (CPT), Prolonged Exposure (PE), and Mentalization-based Treatment (MBT). She is also certified in Trauma-Focused Cognitive Behavioral Therapy (TF-CBT).
Dr. Goldberg earned her doctorate degree in clinical psychology from the University of Denver and completed a postdoctoral fellowship at Baylor College of Medicine. Prior to joining the department, she spent two years at the Children's Assessment Center, where she provided therapeutic services to children and families impacted by sexual abuse, as well as clinical supervision to psychology interns. Her clinical and research interests include psychological assessment, child trauma, and sleep-related symptoms.