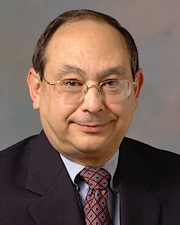 Richard J. Castriotta, MD
Board Certification:

American Board of Internal Medicine
Internal Medicine
Pulmonary Disease
Education/Training
Medical School
University of Bologna, 1974
Residency
Hospital of Saint Raphael, 1978
Fellowship
University of Connecticut School of Medicine, 1980
---
Richard J. Castriotta, M.D., is a professor of internal medicine and pediatrics, and director of the Division of Pulmonary and Sleep Medicine at McGovern Medical School at UTHealth.
Dr. Castriotta is currently a member of the ACCP SEEK Editorial Board and the Medical Advisory Board of Pulmonary Fibrosis Advocates. He is a Fellow of the American College of Chest Physicians and of the American Academy of Sleep Medicine.
Dr. Castriotta's most recent research interests have involved the pathophysiology of pulmonary fibrosis, sleep disorders in traumatic brain injury, REM sleep behavior disorder and Parkinson's disease, sleep-related hypoventilation, complex sleep apnea, methods of monitoring airflow during sleep, control of breathing in obesity, the diagnosis of sarcoidosis and medical ethics involving end-of-life decisions.