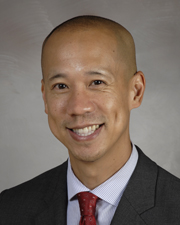 ---
Tuyen (Tom) C. Nguyen, MD
Specialty:
Clinical Interests:

Complex Minimally Invasive Valve Surgery, Aortic Valve Surgery, Mitral Valve Surgery, Minimally Invasive Repair of ASD, Mitral Valve Repair, TAVR, Surgical Education, Coronary Artery Bypass Grafting
Board Certification:

American Board of Thoracic Surgery

Education/Training
Medical School
Johns Hopkins School of Medicine, 2002
Residency
Stanford School of Medicine, 2010
Fellowship
Columbia University, 2012
Fellowship
Emory University Hospital , 2013
---
Tuyen (Tom) C. Nguyen, MD, specializes in minimally invasive valve surgery, complex adult cardiac surgery, and mitral repair. He has extensive experience in minimally invasive surgery involving aortic or mitral valve repairs. He lectures nationally and internationally and hosts a course for other surgeons to visit and learn minimally invasive techniques. He is also an expert in transcatheter aortic valve replacement (TAVR), having performed more than 2,400 implants and actively involved with transcatheter mitral trials. He is one of a handful of surgeons credentialed to teach others how to perform TAVR through the groin.
He is the chief of cardiac surgery for McGovern Medical School's Cardiothoracic and Vascular Surgery Department, director of minimally invasive valve surgery, and associate program director for the cardiothoracic surgery training program. His research interests encompass minimally invasive valve surgery, TAVR, and surgical simulation/education with prior grants from the National Institutes of Health (NIH), Thoracic Surgery Foundation for Research and Education (TSFRE), and the American Heart Association (AHA). Dr. Nguyen has received numerous research and teaching awards. He was the past President of the Thoracic Surgery Residents Association (TSRA), resident editor of The Cardiothoracic Surgery Network (CTSNet), and member of the Accreditation Council for Graduate Medical Education and Review and Recognition Committee (ACGME/RRC). Additionally, he is the editor of several surgical textbooks. In his spare time, he enjoys traveling and volunteered as a surgeon in Africa (Asmara, Eritrea) for 6 weeks. Recently, he was a recipient of the Houston Business Journal's Top 40 Under 40 award, the Benjy F. Brooks Outstanding Clinical Faculty Award 2017, Arnold P. Gold Humanism and Teaching Award, and the Houston Business Journal Healthcare Heroes Award. He also received a first-place award from the American College of Cardiology for co-editing a transcatheter handbook.
The clinic has a robust telemedicine program, and you can get a consultation from the comfort of your own home (no traffic, no parking, no crowds) whether you live in Houston or in another state/country.
Undergoing cardiac surgery can be daunting, but Dr. Nguyen wants to assure patients his commitment to clinical excellence and patient care. His practice philosophy is compassion, patience, and availability.