Researchers assess whether blood plasma product could reduce hemorrhaging, improve survival rate of trauma patients
Written by:
Amy Laukka
| Updated:
September 2, 2020
Find a Physician / Clinic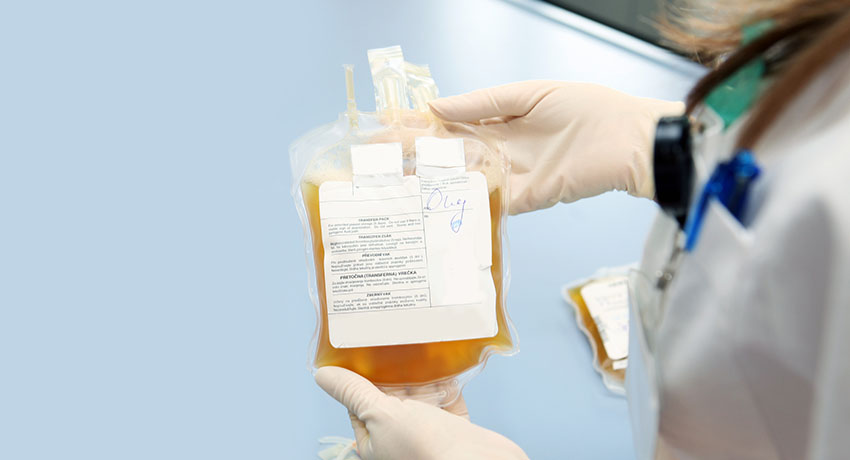 The early use of a highly concentrated blood plasma called cryoprecipitate that could reduce deaths from hemorrhaging in trauma patients is being studied by researchers at The University of Texas Health Science Center at Houston (UTHealth) as part of an international trial.
The UTHealth Center for Translational Injury Research is launching the Houston site of the international CRYOSTAT-2 trial at Memorial Hermann-Texas Medical Center.
Trauma is the leading cause of death for people younger than 45. Some patients who have severe bleeding after injury don't clot properly, primarily due to low levels of fibrinogen, a clotting protein normally circulating in the bloodstream.
"Multiple important elements are involved in making a clot," said Bryan Cotton, MD, MPH, the John B. Holmes Professor in the Clinical Sciences with McGovern Medical School at UTHealth, and principal investigator of the Houston trial site. "There are proteins in the blood, platelets, and the fibers that connect it all, called fibrinogen. A patient could have low levels of fibrinogen from bleeding it out, or genetic problems with making the proteins can cause some patients to bleed more than others." Cotton is also the director of the UTHealth Trauma and Surgical Care Fellowship Program at the Red Duke Trauma Institute at Memorial Hermann-TMC.
Cryoprecipitate is a frozen blood component prepared from plasma and rich in highly concentrated fibrinogen. It is used routinely in hospitals across the U.S. but usually only in those with hereditary deficiencies of fibrinogen, or late in the course of bleeding of trauma patients, Cotton said.
"Recent studies show early intervention to stop bleeding in trauma patients is important. Early use of cryoprecipitate could help prevent the fibrinogen levels from getting too low in patients who are severely bleeding. Getting those levels higher may help clot quicker and stronger, thereby decreasing bleeding and death from hemorrhaging," Cotton said.
The current standard of care for trauma patients with major hemorrhage is a cocktail of red blood cells, plasma, and platelets, but fibrinogen levels are much lower than in cryoprecipitate.
"We have significantly reduced mortality from bleeding over the past 10-12 years, from greater than 50% for severely bleeding patients to the current 20-25%," Cotton said. "Houston has led the way in identifying best practice for these patients and has performed many of the studies that have gotten us to where we are now. However, we haven't been able to reduce further the mortality beyond 20-25%. This study will examine whether administering the fibrinogen-rich plasma product will reduce deaths from bleeding."
The randomized trial will enroll 1,500 patients, including 400 in the U.S., who are severely bleeding due to trauma and predicted to receive significant amounts of blood products.
Because a traumatic state is a requirement to enroll in the study, informed consent is not feasible. Researchers will contact family members and legally authorized representatives to obtain permission, and if neither can be located, the patient will be enrolled. For those enrolled without consent, consent will be sought from family members at the earliest opportunity.
In order to inform the community about the proposed study, Cotton and other members of the research team presented the study and answered questions at a series of meetings with groups in and around Houston. Researchers are also running a social media campaign to inform the public.
If you do not wish to participate in this proposed research study, please email clinicaltrials@uth.tmc.edu to obtain an "opt-out" bracelet that must be worn for the five-year duration of the study.
The trial is sponsored by Queen Mary University of London and funded by the National Health Service Blood and Transplant Trust Fund, United Kingdom, with support from the National Institute for Health Research Clinical Research Network.
Co-investigators from McGovern Medical School include Charles E. Wade, PhD, and Erin Fox, PhD; and Jeanette Podbielski, RN, is the program manager.
Media inquiries: 713-500-3030