Revolutionary sinus relief offered in-office
Written by:
Andy Heger, Office of Public Affairs
| Updated:
February 19, 2016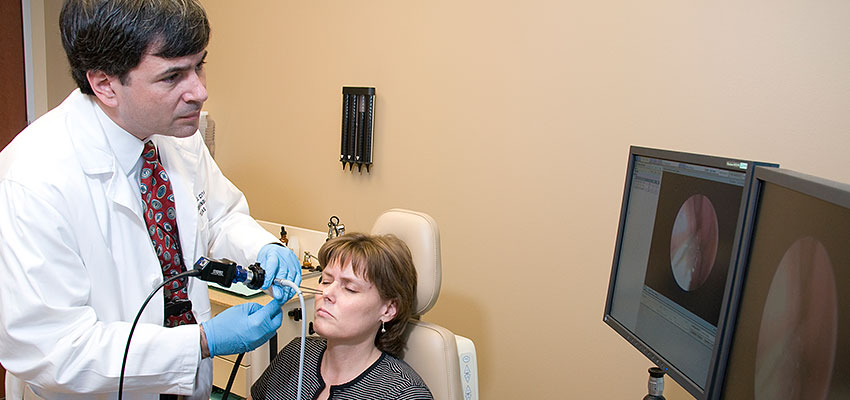 Related Healthcare Providers
A new, minimally invasive procedure to treat post-surgery patients suffering from chronic sinusitis is being offered by the UT Physicians Otorhinolaryngology – Head & Neck Surgery clinic, in conjunction with Memorial Hermann-Texas Medical Center. UT Physicians is the only academic medical practice in the country to offer this treatment in the office setting.
Sinusitis, which affects more than 30 million Americans each year, is sinus inflammation that can cause nasal pain, pressure, cough and breathing difficulties. This inflammation often reoccurs, even after surgery, leading to the use of medications for continuous treatment.
With this new procedure, which is covered by health insurance, a cutting-edge implant delivers a localized, controlled steroid directly to the sinuses in patients suffering from chronic cases of sinusitis. The procedure takes minutes and the implant dissolves on its own over a period of a few weeks.
"The procedure is designed for patients who have had sinus surgery and need ongoing treatment for that inflammation," says Martin Citardi, M.D., UT Physicians otorhinolaryngologist, professor and chair of the Department of Otorhinolaryngology-Head and Neck Surgery at McGovern Medical School at UTHealth and chief of otorhinolaryngology at Memorial Hermann-TMC. "We've started to use it in our office because sinusitis in these patients is a chronic condition. If we can deliver the treatment directly into the sinuses, we avoid the systemic effects and get better outcomes."
After suffering for years from severe allergic fungal rhinosinusitis, which is characterized by inflammation directed against fungus that surrounds all of us, Texas State University senior Wynard Crawford found relief through this steroid-releasing device.
"It started back in my freshman year of high school," Crawford says. "I had no sense of smell, I couldn't taste anything and I wasn't able to breathe through my nose at all. Today I feel the best I've ever felt thanks to treatment from Dr. Citardi and his team. Some of my previous surgeries would offer a month or two of relief and then the symptoms would come back. Since I had the device implanted, I've felt great."
"The goal of this procedure is to treat once and then minimize the risk of relapse," says Dr. Citardi, adding that some patients may require additional treatment.
Amber Luong, M.D., Ph.D., UT Physicians otorhinolaryngologist and associate professor in the Department of Otorhinolaryngology-Head and Neck Surgery at McGovern Medical School at UTHealth, is leading a local study of a similar device used to treat reoccurring nasal polyps, which also contribute to sinus infection. This device is a biodegradable stent that releases a controlled steroid locally.
"The difference with this device is it is specifically designed for an indication for in-office treatment of nasal polyps that reoccur post-surgery by releasing a significantly higher amount of steroids," Luong said.
The ear, nose and throat specialists at UT Physicians, a part of The University of Texas Health Science Center at Houston (UTHealth), provide comprehensive medical and surgical care and treatment for conditions of the ear, nose and throat. These conditions include nasal and sinus disorders, voice and swallowing problems, facial plastic and reconstructive surgery, hearing loss, vertigo, thyroid complications and more. For more information or to set an appointment, please visit ent4.me or call 713.486.5000.