Fun, Food, Entertainment at Rosenberg Grand Opening
Written by:
Rob Cahill, UTHealth Media Relations and Melissa McDonald, UT Physicians
| Updated:
April 25, 2017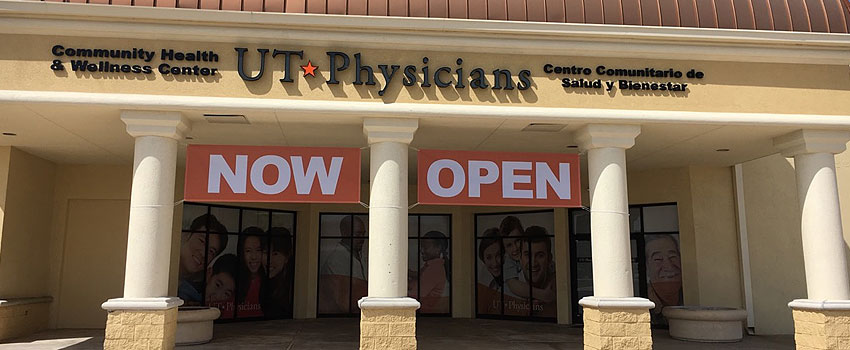 UT Physicians is offering an inside look at its new Rosenberg multispecialty clinic during a grand opening celebration filled with free family fun, food and entertainment. During the event on May 13 from 10 a.m. to 1 p.m., the doors will be open to the clinic to view exam rooms, meet UT Physicians health care providers and participate in free medical screenings.
Along with a tour, festivities include face painting, balloon art, bounce houses and an action-packed entertainment lineup with danzas folclóricas (folklore dancing), a Zumba fitness class, the Lamar Consolidated High School cheer team and music provided by DJ La Chica Maravilla. Complimentary food from hot dogs to snow cones, popcorn and drinks will be served.
For a free mammogram, UT Physicians has teamed up with The Rose, a mobile diagnostic imaging center, to provide screenings that day. To see if you qualify, please contact the clinic at 713-486-1950.
UT Physicians  – Rosenberg is located at 5115 Avenue H, Suite 701. The clinic offers primary care for children, adolescents and adults. Specialists include a family practitioner, pediatrician, psychiatrist and urogynecologist. The clinic is open Monday through Friday from 8 a.m. to 5 p.m.
As the clinical practice of McGovern Medical School at UTHealth, UT Physicians is a national leader in the delivery of integrated, personalized care, with many of our doctors listed among the "Best Doctors in America."
As the clinical practice of McGovern Medical School at UTHealth, UT Physicians has locations across the Greater Houston area to serve the community. To schedule an appointment, call
888-4UT-DOCS
. For media inquiries, please call
713-500-3030
.