Saving the Best for Later
Written by:
Anissa Anderson Orr, HealthLeader
| Updated:
May 21, 2014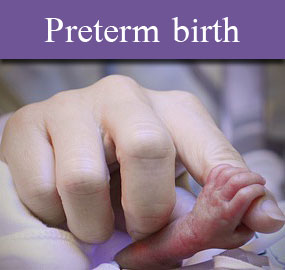 Each spring, thousands of Houstonians walk the five-mile "March for Babies." Some of those walkers are part of Team UTHealth, which includes the caregivers of babies Brice and Brielle Mann, twins born perilously early at just 25 weeks and weighing less than a pound.
"They were so small, we had to fold their diapers in half," says their father Bruce Mann.
Both babies struggled in those first crucial months of their lives. After more than five months in neonatal intensive care, Brielle ultimately lost her fight—dying of necrotizing enterocolitis, a serious, and sometimes deadly, gastrointestinal disease that affects premature infants. Brice made it through three more months of tubes, beeping monitors, and kangaroo care to finally come home.
Now, more than two years later, Brice is a healthy and happy toddler. And after having endured the most difficult experience of their lives, Bruce Mann and his wife, Abbie, find comfort in their faith and in their son's survival.
"My son is a miracle," Bruce Mann says. "He was 14 ounces, and he is here. He is a testimony to what modern medicine can do. But there's so much we still don't know about prematurity."
What we know
Babies born too early face some tough statistics. Prematurity is the leading killer of newborn babies in the United States. Babies who survive can have lifelong health problems, including cerebral palsy, intellectual disabilities, chronic lung disease, blindness, and hearing loss.
In the United States, one in nine babies is born prematurely. Risk factors include a family history of pre-term birth, preeclampsia (high blood pressure during pregnancy), diabetes, and being under- or overweight during pregnancy. But in about four of every 10 cases of preterm birth, the cause is unknown.
Getting to term
An expert in maternal fetal medicine, Sean Blackwell, M.D., UT Physicians obstetrician and gynecologist, studies the best practices for preventing preterm labor.
"For women who have already had one prior preterm birth, the chance of having another early is approximately one in three; but there are some actions that can be taken to improve outcomes," says Dr. Blackwell, chair of the Department of Obstetrics, Gynecology and Reproductive Sciences at The University of Texas Medical School at Houston. "There are so many things we can do now that reduce the risk."
Some of the ways Dr. Blackwell helps his high-risk patients from delivering too early:
Prescribing rest (but not bed rest)
Women at high risk for delivering early usually don't have to confine themselves to their beds. "It has been shown that bed rest doesn't really make a difference, and in fact strict bed rest has its own risks, such as increased risk for blood clots," Dr. Blackwell says. Instead, he advises women at high risk for early labor to scale back vigorous and/or strenuous activities.
Medications
Depending on the circumstances of the patient and the pregnancy, Dr. Blackwell may prescribe 17 hydroxyl progesterone for women with a prior spontaneous preterm birth, or vaginal progesterone for a woman with a short cervix detected by ultrasound. If a woman develops active preterm labor, in addition to medications to stop labor (tocolytics), intravenous doses of magnesium sulfate may be prescribed to decrease risk for cerebral palsy in the preterm newborn. Finally, steroid shots containing Betamethasone are a very effective way to mature the baby's organs, especially the lung, brain, and gut, Dr. Blackwell says.
Cervical cerclage
For women with a weak or short cervix, a procedure called cervical cerclage, which involves sewing the cervix shut, may help prevent preterm birth. Dr. Blackwell says cervical pessaries—small, silicone ring-shaped devices inserted around the cervix—are also being studied as a way to prevent preterm labor in women with a short cervix.
Ideally, babies should be born as close to 39 weeks as possible, say experts. The risk of complications from prematurity is higher for babies born earlier than that and is extremely high for babies born between 24 and 28 weeks. At that stage of development, the brain, lungs, and liver are still developing.
"Babies born at this early gestational age are vulnerable and need great care and attention; they are at the highest risk for long-term problems," says Dr. Blackwell. "Our goal is to have normal-risk women deliver their babies at 39 weeks or later. Every day does matter. For those with high-risk pregnancies, our goal is to get them to 39 weeks or as close to this time period as possible without jeopardizing the mother's health.
Unprepared for preterm birth
Few parents are prepared for the rollercoaster ride of delivering a baby early. Amber Luong, M.D., Ph.D., a UT Physicians head and neck surgeon, was better prepared than most. As a physician, she had an intimate knowledge of the human body and the health care system. She had a 4-year-old son, so she knew how to take care of a newborn. And Dr. Luong knew hers was a high-risk pregnancy, because of her preeclampsia. But delivering twins Hayden and Caily in July 2013 at 27 weeks still threw her and her husband for a loop. The twins' sizes alone were cause for concern: Hayden weighed 1 pound, 10 ounces; Caily weighed 1 pound, 9 ounces.
Of the pair, Caily was the healthiest—staying in neonatal intensive care unit (NICU) at Memorial Hermann-Texas Medical Center for three months and coming home at Thanksgiving. Her brother Hayden had a rougher time—undergoing operations for necrotizing enterocolitis and patent ductus arteriosus, an unclosed hole in the aorta. He made it through and joined his sister at home right before Christmas.
"It's all a blur now," Dr. Luong says about the experience. "Seeing your babies born that early, and they don't look like babies because they are so small… it takes some getting used to. It is really surreal."
Dr. Luong says the support of the doctors and nurses, hospital staff, her family, friends, and other parents of preemies helped her and her husband make it through the seemingly endless days and nights in the NICU.
Hope for premature babies
Outcomes have improved for premature babies over the past few decades, thanks to advances in neonatal care and surgical techniques to correct complications from prematurity.
"Our ability to manage patients has improved drastically," says UT Physicians pediatric surgeon Mary Austin, M.D., M.P.H., who performed Hayden's emergency surgery for his necrotizing enterocolitis.
He survived, Dr. Austin says, not only because the surgery was successful, but because of the tools and techniques employed in a modern NICU to manage the prematurity complications, such as breathing problems, jaundice, and susceptibility to infections.
Changes in surgical approaches also are making a difference. Dr. Austin gives the example of how pediatric surgeons now treat diaphragmatic hernia—an opening in the diaphragm that allows the contents of the abdomen to push up into the chest cavity.
"We used to rush babies with these defects into surgery. But they had very poor outcomes," Dr. Austin says, adding that babies born prematurely have poorly developed lungs and blood vessels—causing pulmonary hypertension (elevated blood pressure in the lungs). Lung function and blood pressure improve one to two weeks after birth, as babies mature. "We now know that it is much better to wait to perform the surgery until the baby is older, and their outcomes have greatly improved."