The holidays can be difficult for people even when we're not amid a global pandemic. But because of COVID-19 and the other stressors of 2020, many people are already feeling depressed.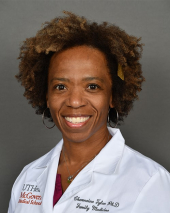 "Based on national surveys of adults, we know that depression rates have increased as we address the challenges of the current state of affairs," said Chermaine Tyler, PhD, a psychologist with UT Physicians. "That means some are already dealing with low mood or increased stress, and it's important to recognize this in yourself or a loved one so that you can seek appropriate help."
Keeping track of triggers
Tyler, an assistant professor in the Department of Family and Community Medicine at McGovern School of Medicine at UTHealth, suggests keeping track of when, where, and with whom your sadness appears. She says sometimes there are specific patterns that we don't necessarily see unless we carefully monitor our mood. There are several apps you can download from your mobile device to help you do this. She specifically recommends Mindshift CBT and Daylio.
"If a certain situation triggers your distress, think about if/how to make a change. If you feel you need help, reach out to trusted family members and friends who are supportive," Tyler said. "If you need something more, don't be afraid to seek professional guidance."
Connecting with others
As we enter the holiday season, it's incredibly important to figure out how to connect with family members and loved ones to ward off depression. Many of the traditional activities we partake in won't be happening this year because of the pandemic, but this doesn't mean you can't engage with others in special ways. Tyler offers some suggestions, including making handmade gifts and cards.
"Traditional holiday greetings – an old-fashioned card, envelope, and stamp – have become somewhat of a lost art," said Tyler. "And what's more, the process of making them by hand can be therapeutic."
You can still hand-deliver a care package or set up a socially distanced coffee date for friends and family close by. For those further away, handwrite a letter and include recent photos.
"We are social creatures, and for many of us, the web meetings and virtual gatherings have lost their shine," she said. "With fewer daily hours of sunlight for outdoor activity, spend the extra time writing a note or handcrafting something special. Mask up, and personally deliver it and air-hug a friend."
Where to get help
If you need mental health support, several options are available, including the UT Physicians Behavioral Health Services located in many of our primary health care clinics. You can reach them by calling 888-488-3627. The Harris Center for Mental Health and IDD is another good resource, serving children and adults from all economic backgrounds. UTHealth Harris County Psychiatric Center is the largest provider of inpatient psychiatric care in Houston, and is committed to educating the community on the value of good mental health. If you need to speak with someone immediately and are suicidal, please contact the Suicide Prevention Lifeline.