Just because we don't have much of a winter in Houston doesn't mean you should neglect your skin during occasional cold snaps.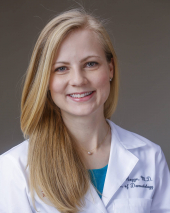 "Below-freezing temperatures and windy conditions can be detrimental to your skin, stripping it of its moisture and leaving it vulnerable to itching, cracking, and even bleeding," said Megan Rogge, MD, a dermatologist at UT Physicians and assistant professor of dermatology at McGovern Medical School at UTHealth. "And cracked or broken skin puts you at risk of developing a secondary skin infection, which may cause more discomfort."
Fortunately, there are some steps you can integrate into your daily skin regime to protect your largest organ from Mother Nature's chilly temperatures. Rogge provides the following tips to keep your skin in tip-top shape:
Choose creams instead of lotions
"Not all skin care products are created equal," said Rogge. "When the weather changes, I encourage the use of creams over lotions, which are more moisturizing. Lotions contain more water and less oil, and are not the best choice for dry skin."
Don't put away that sunblock
The tendency is to reserve sunblock for the summer months, but when the temperature drops, UV rays can be even more potent due to reflective surfaces, which makes wearing sun protection still as crucial as on days when the sun is blistering, according to Rogge.
Shower. Moisturize. Repeat.
"To lock in moisture, immediately put on your moisturizer after getting out of the shower," said Rogge. "It's best to apply moisturizer while your skin is still damp."
Keep showers short
Hot showers feel particularly good when it's cold outside," said Rogge. "But this will further damage your skin and perpetuate the dryness." Opt for taking lukewarm showers and limit showers to 10 minutes or less.
Dig out the gloves
"We seldom get to wear gloves, hats, and scarves during winter in Houston," said Rogge. "But when the temperatures are below freezing, it's time to pull them out as they provide a protective barrier for your skin."
Use a humidifier
As you crank up the heat in your home, you also dry out your skin. Rogge recommends using a humidifier as the best defense for protecting your skin indoors during the cold winter days.
Cotton is better than wool
"For women who love to wear leggings or tights all winter long, the fabric you choose is important," said Rogge. "Wool or synthetic fabrics can be irritating and may cause itching for some. Cotton leggings are a better tolerated option."
For more information about skin care concerns or to schedule an appointment, visit the UT Physicians dermatology clinic.