Sola wins national nursing award
Written by:
Darla Brown, Office of Communications
| Updated:
May 19, 2016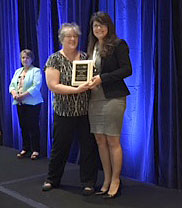 Cristina Sola, nurse manager for the Department of Cardiothoracic and Vascular Surgery, is the winner of the Society for Vascular Nursing's (SVN) 2016 Clinical Excellence Award.
The national annual award recognizes a nurse for "outstanding clinical skill and direct patient care delivery in the specialty area of vascular nursing." Sola was presented the award at the SVN annual convention earlier this month in Orlando.
"In addition to her clinical skillset and commitment to her patients, I believe her greatest strength lies in her unique ability to align her goals to those of the team and clinical service that really places Cristina far above her peers," said Harleen Sandhu, M.D., M.P.H., McGovern Medical School assistant professor of cardiothoracic and vascular surgery. "Her leadership and dedication toward improving the outpatient clinical care, by creating workflows and harnessing maximum potential of her team, enabled our cardiovascular clinic to achieve outstanding levels of productivity and efficiency. I cannot think of a candidate more deserving of this recognition for excellence in clinical practice."
Sola joined McGovern Medical School in 2011 and works in the surgical clinic setting, caring for patients with vascular disease, with Dr. Ali Azizzadeh, UT Physicians cardiothoracic and vascular surgeon and McGovern Medical School professor of cardiothoracic and vascular surgery, and Dr. Kristofer Charlton-Ouw, UT Physicians cardiothoracic and vascular surgeon and McGovern Medical School associate professor of cardiothoracic and vascular surgery.
"First and foremost, my patients are my favorite part of my job," she said. "Vascular surgery is complimented by careful follow-up, and we have been seeing the same patients, as well as many new faces, for years. I've developed a close relationship with many of them.
"I also enjoy the collaboration and autonomy I have with my physicians. We promote and practice a team-based approach to our patient care."
While fulfilling her responsibilities as a full-time clinic nurse, mother of two young children, and pursuing her advanced education at the UTMB-Galveston School of Nursing, Sola also has been working behind the scenes making key editorial contributions to the Society for Vascular Nursing, Sandhu said.
"Personally, I always identify role models who inspire me at both personal and professional fronts," Sandhu explained. "Over these years, Cristina has shown a tremendous capacity for personal as well as professional growth, and I envision the makings of an exemplary role model in her. Her journey thus far has been truly inspiring!"
"I am happy to be a part of such a great practice and look forward to expanding my career with them," Sola said.
The Society for Vascular Nursing was founded in 1982, establishing a society to officially recognize vascular nursing as a specialty.