Lisa Laurenzo's first trimester started off normal, just like any other pregnancy. However in 2010, two days before Christmas, her OB-GYN noticed something concerning during her 20-week ultrasound.
To pinpoint the condition, additional bloodwork was ordered and an MRI was performed. After reviewing the results of the tests, her doctor determined Ruby, her unborn daughter, had spina bifida, a neural tube defect which occurs when the spinal cord does not develop properly.
Spina bifida is known as the "snowflake condition" because no two cases are the same. Ruby was diagnosed with myelomeningocele, a severe form in which a small spinal fluid sac grows between the L4 and L5 vertebrae. Laurenzo was shocked. She had heard distressing stories about spina bifida.
"I was uncertain about the outcome, so I searched online to learn more about the diagnosis," said Laurenzo. "I don't recommend doing this until you have answers from your doctor." Babies with severe spinal defects, including spina bifida, are often aborted.
After a discussion with experts at UT Physicians, she found it refreshing that their medical advice was provided with no bias toward a specific direction. "I felt that they were here to support me, no matter what decision I made," said Laurenzo.
After some time, she was able to mentally prepare herself for the uncertainty that lay ahead and move forward with her pregnancy.
Ruby's health care team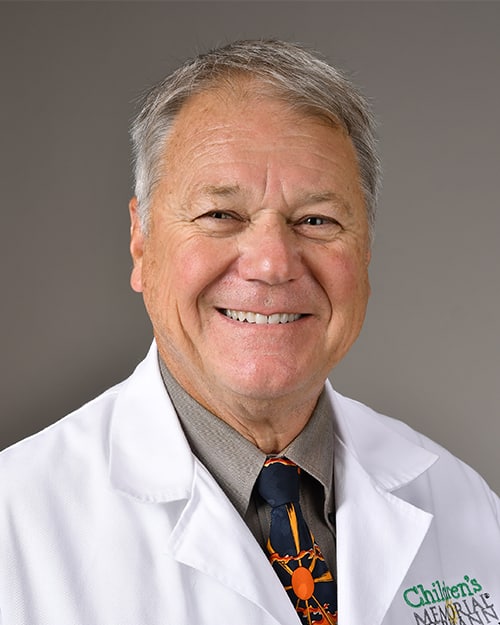 Complex care for spina bifida often requires a multidisciplinary team of experts. The morning after Ruby was born, she had a five-hour surgery performed by Stephen A. Fletcher, DO, pediatric neurosurgeon with UT Physicians and associate professor in the Department of Pediatric Surgery at McGovern Medical School at UTHealth, to repair the myelomeningocele affecting her vertebrae and to protect her spinal cord.
A week later, another surgery was performed by Fletcher to place a shunt in Ruby's head to drain fluid from her brain, relieving pressure and preventing possible damage.
"Hydrocephalus is another condition associated with the spectrum of problems that may occur in children with spina bifida. This more often than not worsens and requires surgical management," said Fletcher.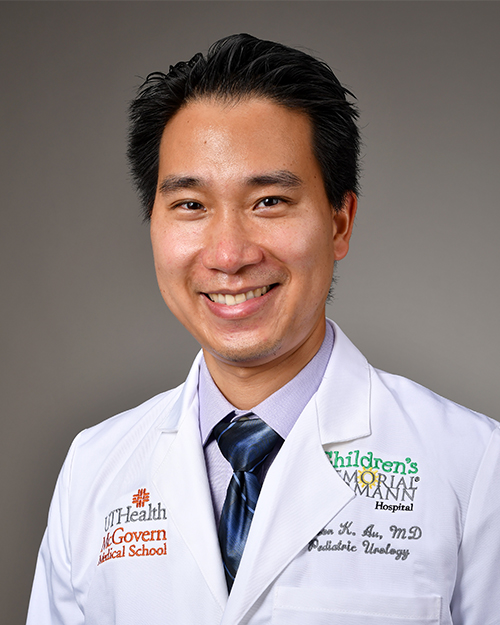 Jason K. Au, MD, pediatric urologist with UT Physicians, assistant professor in the Department of Pediatric Surgery at McGovern Medical School, and medical director of the UT Physicians Spina Bifida team, removed a nonfunctioning kidney and performed a robotic appendicovesicostomy and Malone Antegrade Continence Enema (MACE) procedure when Ruby was 5 years old.
The appendicovesicostomy procedure creates a new tube made from the appendix which connects the bladder to a small hole created in the belly button, so children can empty their bladders by catheterizing through the new tube instead of using the urethra. This procedure also saved Ruby from having to get a kidney transplant. The MACE procedure allows direct access to the colon through a small skin opening to perform an enema. "These operations are performed most often on patients who have spina bifida, spinal cord injuries, or other neurological conditions which may result in urinary and fecal incontinence," Au said.
Ruby's surgeries were successful, but she stayed in the neonatal intensive care unit for an extended period of time to monitor her progress.
Other specialists have been involved in her ongoing care, including Fernando A. Navarro, MD, a pediatric gastroenterologist with UT Physicians and associate professor in the Department of Pediatrics at McGovern Medical School, and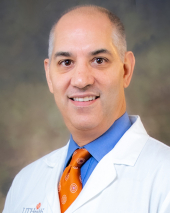 Joshua Samuels, MD, MPH, a pediatric nephrologist with UT Physicians and professor in the Department of Pediatrics at McGovern Medical School.
Samuels also leads Camp Shining Stars, which is a free weeklong summer camp for kids age 7-18 with chronic
kidney disease. "The camp is funded by generous donors and the Kidney Kamp Foundation to help children and adolescents attend summer camp, and have valuable, memorable experiences," said Samuels.
Camp Shining Stars was canceled this year due to the COVID-19 pandemic, but Ruby has attended in previous years and had a great time.
Supporting spina bifida in Houston
Through Facebook friends, Laurenzo discovered a spina bifida support group in Dallas. She reached out to the Spina Bifida Association of North Texas to see if they had a chapter in Houston, but found there was not one due to a lack of volunteers.
When asked if she would like to start a support group locally, she took charge wholeheartedly to become the advisory council chair to raise awareness and hope in Houston.
"With the help of the Spina Bifida Association, I organized the first Walk-N-Roll for Spina Bifida in Houston in 2014 and put it together in a few short months," said Laurenzo.
She has held a walk every year since then with increasing attendance. From her efforts, support from sponsors, and event participants, more than $41,000 for spina bifida support has been raised. Ruby enjoys attending the event each year because she gets to meet other children who are experiencing similar challenges. This year's
Walk-N-Roll is a virtual event scheduled for Sunday, October 25.
Laurenzo's efforts did not stop there. She went to Washington to meet with members of Congress to successfully pass legislation to increase
funding for spina bifida research. She also was able to expand protections for people diagnosed with spina bifida and change insurance coverage for equipment, such as wheelchair accessories.
Advice for others
Laurenzo has some advice for new moms who may be going through the same emotions what she went through. "You can do everything right and your baby may still have spina bifida," said Laurenzo. "It can happen within the first 28 days of pregnancy so your baby can have it before you even know you are pregnant."
Update on Ruby
Ruby is resilient and has many people who love and support her. She recently had an MRI done and is scheduled for spinal surgery in November to release the tethered cord. This operation involves opening the back and the spinal column in order to release the spinal cord so it can move freely. After surgery, she hopes to be home for Thanksgiving to enjoy the holidays with her family. Despite all of the challenges, her smile shines through.