Study evaluates new depression treatment
Written by:
Deborah Mann Lake, Office of Public Affairs
| Updated:
March 26, 2014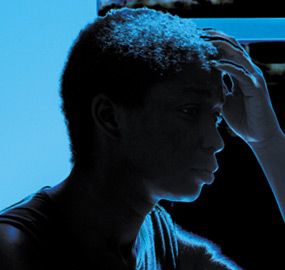 A pilot study is seeking patients to assess the use of deep brain stimulation (DBS) in the medial forebrain bundle of the brain for treatment-resistant depression.
"DBS in the medial forebrain bundle has been studied in Germany with promising results. Our study will be the second time ever to target this part of the brain," said principal investigator Jair Soares, M.D., UT Physicians psychiatrist. "People suffering with depression who have not responded to medications and electroconvulsive therapy are functioning poorly and are suffering. This could potentially really help them."
In particular, researchers are examining the supero-lateral branch of the medial forebrain bundle, through which the neural pathways that affect emotion travel. The treatment involves a neurosurgeon implanting four small electrodes attached to a lead. A wire under the skin connects the lead to the battery-run neurostimulator that is placed under the skin below the clavicle.
Patients in the trial will undergo the procedure at Memorial-Hermann Texas Medical Center. Co-investigator is Albert Fenoy, M.D., UT Physicians neurosurgeon and member of the Mischer Neuroscience Institute at Memorial Hermann-TMC.
In a study led by researchers at University Hospital Bonn, Germany, seven patients with extreme forms of treatment-resistant major depression received DBS in the medial forebrain bundle. Six of the seven patients experienced a positive response for at least 24 months post-surgery. The results were published in the June 2013 issue of Biological Psychiatry.
The study, which will enroll five patients between the ages of 22 and 65, has been approved by the Federal Drug Administration. It is funded by the John S. Dunn Foundation through the Mischer Neuroscience Institute.