Taking advantage of technology tools to manage mental health
Written by:
Laura Frnka-Davis
| Updated:
April 17, 2020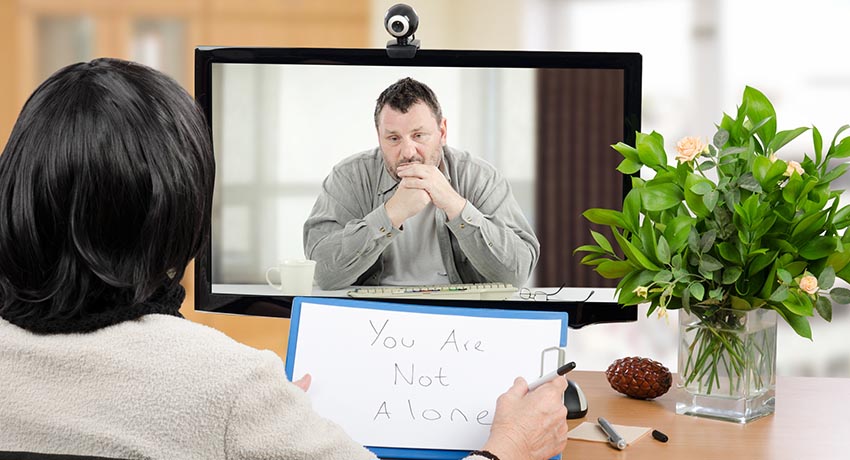 Related Healthcare Providers
Taking advantage of technology to manage mental health
The COVID-19 pandemic is forcing society to become creative when it comes to finding solutions to connect through technology and managing mental health is no exception.
"There are multiple stressors right now from worrying about contracting the virus, to making ends meet financially, to the prospect of unemployment," said Elizabeth Newlin, MD, a psychiatrist with UT Physicians and associate professor and vice chair of child psychiatry at McGovern Medical School at UTHealth. "Now more than ever, it's important to keep tabs on your emotional well-being and not let those check-ups slide."
During this period of self-isolation and upheaval, patients may be hesitant to keep in-person appointments with their therapists or other mental health providers. One option is to utilize teletherapy, a form of telemedicine wherein counseling takes place via video chat.
"The video component really adds a lot in terms of facial expressions so you can see if the patient and therapist like, dislike, or disagree with what they are hearing," said Newlin, who also is the associate executive director of the UTHealth Trauma and Resilience Center.
In addition to interacting face-to-face via video, teletherapy provides the following benefits:
Adheres to social distancing recommendations during the pandemic
Allows for consultation with a health care provider from the safety and comfort of home
Is covered by Medicare or most insurance companies
Is HIPAA-compliant
Provides the opportunity to conduct follow-up visits or customized appointments to order medication refills
Patients can quickly and easily schedule a telehealth appointment with UT Physicians.
If a patient is not sure whether they have a mental health issue or are at risk for one, they are encouraged to access free digital cognitive behavioral therapy (DCBT) made available through UTHealth. The evidence-based program, developed by Magellan Health, was created in the wake of Hurricane Harvey when a vast number of Houstonians sought emotional support.
It's quick and easy to register for the online tool, which includes modules for anxiety disorders, moderate depression, chronic pain, obsessive-compulsive disorder, substance abuse, and sleep difficulties.
"This an excellent resource for someone who has limited access to mental health care, or in combination with psychotherapy," said Newlin.  "Tools like this one help therapists better connect with patients and help keep better track of their symptoms and progress."
Users can access the modules on a device  of their choice – computer, phone, or on a smart device:
MoodCalmer – Designed to help with mild to moderate depression, the four-session program helps people identify signs of depression, reverse thinking errors, and schedule pleasant activities.
FearFighter® – Aimed at people with anxiety disorders, the nine-session program includes steps to reduce panic and phobia, which are rooted in fear. Exercises include tightening and relaxing muscles, diaphragmatic breathing, and "catching" your breath.
OCFighter – Nine sessions include identifying triggers for obsessive-compulsive behavior, exposure and response prevention, and getting help for depression and dissociation.
Restore® – Six sessions designed to improve sleep problems target four main areas: thoughts, habits, arousal, and consequences. Participants identify problem habits, learn about the relationship between sleep and emotional disturbances, and practice "applied relaxation" techniques.
Shade – A 10-session program for people with alcohol or substance misuse, the program includes mood monitoring, identifying problematic thought patterns, and developing effective drug refusal skills.
ComfortAbleTM – Chronic pain is addressed in seven sessions to improve comfort ranging from pacing physical activity to relaxation exercises to planning for future flare-ups. It also helps people change unproductive thoughts and behaviors.
The DCBT program is free for all Houston and Harris County adults to access and screens users to determine which of the six modules would be most efficient. If a person's condition appears to become increasingly worse, the program will prompt them to contact the Trauma and Resilience Center or the National Suicide Prevention Hotline.
To learn more, visit https://uthealth.ontobetterhealth.com/.  For facts and resources about COVID-19, visit our information center.