Patients who have a chromosomal disorder known as Turner syndrome, in which a female is born with only one full copy of the X chromosome, may have underlying conditions that may predispose them to serious complications from the new coronavirus.
"Those diagnosed with Turner syndrome present a variety of medical issues ranging from short stature and absent puberty to cardiac and renal abnormalities," said Siddharth Prakash, MD, Ph.D., co-director of the Turner Syndrome Adult Comprehensive Care Center at UT Physicians and an associate professor of internal medicine at McGovern Medical School at UTHealth. "Some of these conditions put patients at greater risk for severe illness from COVID-19."
Those conditions often seen in Turner syndrome patients that make them more vulnerable to severe illness from the virus include:
Heart disease
Turner syndrome patients can often present with congenital heart disease, including having a bicuspid aortic valve and narrowing of the aorta. Heart disease is an underlying medical condition that can result in severe complications from COVID-19.
Diabetes
The incidence of Type 1 and Type 2 diabetes are four times and 10 times greater in people with Turner syndrome, respectively. Those with diabetes are strongly encouraged to work with their health care provider to make sure the disease is well-managed and monitored.
Severe obesity
Turner syndrome patients are often determined to be obese with a body mass index (BMI) of 40 or greater. Obese individuals are at a higher risk of severe illness from coronavirus.
Liver disease
The occurrence of cirrhosis of the liver is six times greater for people with Turner syndrome. Fatty liver disease is also common in those with the disease. These two health issues can predispose a patient to serious illness from COVID-19.
High blood pressure/hypertension
It is estimated that 20% to 40% of children and up to 60% of adults with Turner syndrome have high blood pressure (hypertension). Having high blood pressure alone may increase the risk to develop serious illness due to COVID-19.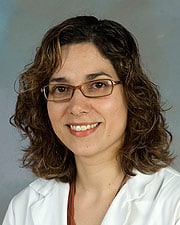 "There are several conditions that patients with Turner syndrome have that don't appear to put them at risk; however, because it's a new virus, it's important to keep certain aspects of them in mind, which might pose greater vulnerability," said Michelle Rivera, MD, co-director of the Turner Syndrome Adult Comprehensive Care Center at UT Physicians and assistant professor of pediatrics at McGovern Medical School at UTHealth.
These conditions include:
Liver test abnormalities/elevated liver enzymes
Liver test abnormalities and elevated liver enzymes are common in those with Turner syndrome, despite individuals having no symptoms of liver problems. It is unclear currently if the liver differences are due to autoimmune liver disease. At this time, these differences don't appear to have an effect on the risk of serious illness from COVID-19.
Kidney structural anomalies
Kidney structural anomalies affect 24% to 40% percent of those diagnosed with Turner syndrome. Individuals with chronic kidney conditions, such as reduced kidney function or kidney failure, needing dialysis or having a transplanted kidney are susceptible to severe illness from COVID-19. Having only one kidney without reduced kidney function or chronic kidney conditions does not increase the risk.
Autoimmune diseases
Autoimmune diseases are caused by an overactive immune system that attacks healthy cells as though they were foreign bodies. Patients with Turner syndrome often develop such health issues including thyroid disease, celiac disease, diabetes, juvenile rheumatoid arthritis, eye inflammation, and inflammatory bowel disease. If a patient takes medication to suppress the immune system, they could be at higher risk of serious illness due to COVID-19.
Lymphedema
In nearly all cases, lymphedema alone does not make one more susceptible to serious illness from COVID-19. The only exceptions are those with rare primary lymphedema, who have extensive lymphatic abnormalities involving the chest and immune deficiency. Read more.
"If you look at risk factors as a scorecard, the more risk factors you have, the higher probability you have to develop serious complications from COVID-19," said Becky Brown, national director of development and communications for the Turner Syndrome Society of the United States. "There are several common-sense steps you can take to keep yourself safe."
These steps include:
Following directives from the Centers for Disease Control and Prevention (CDC), local authorities, and the federal government.
Washing hands frequently for at least 20 seconds with soap and warm water. If soap and water are not available, use hand sanitizer.
Practicing social distancing and self-isolating as much as possible.
"We are grateful to the Turner Syndrome Society of the United States for helping us provide such excellent information for our patients, specifically to Becky Brown for her contributions to this article," said Prakash.
For more information about Turner syndrome, visit the UT Physicians Turner Syndrome Adult Comprehensive Care Center. To obtain facts and other resources about COVID-19, visit our information center.