UT Physicians nurse receives Good Samaritan award
Written by:
Simone Sonnier, UT Physicians
| Updated:
August 30, 2021
Rebecca Sam was not always in the health care profession. However, in her thirties, she had a calling that led her back to school and eventually to UT Physicians. For her years of hard work and dedication to our patient population, the Good Samaritan Foundation is recognizing her with a bronze award.
"I'm excited to be honored," said Sam. "Even though I did not start in the medical field, I knew as a nurse, I would be able to do something meaningful to help people."
Following college, her career in health care began in a pediatric intensive care unit as a registered nurse. After several years of gaining knowledge and experience in a fast-paced environment, her journey as a nurse manager at UT Physicians began.
Sam uses her background from her previous role to assist the pediatric heart surgery team at UT Physicians. From supervising a group of nurses to managing patient referrals, her overall role is to ensure both her patients and health care experts are cared for.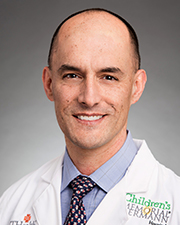 The Good Samaritan Foundation awards recognize nurses who represent the best qualities of those in the profession. Jorge D. Salazar, MD, pediatric and congenital cardiac surgeon at UT Physicians, works closely with Sam and praises her abilities and skills.
"Rebecca is an exceptional nurse, leader, and human being. Her commitment to the children and families with heart disease is deeply personal," said Salazar, executive co-director of the Children's Heart Institute and professor and chief of pediatric and congenital heart surgery at McGovern Medical School at UTHealth. "She treats every child and family as if they were her own, which translates to excellent outcomes.
Sam has been with UT Physicians for 10 years and is still in love with her job.
"I've always had a passion for caring for others and working with children," she said. "My current role fulfills my desire to give back and my appreciation of science."
As the clinical practice of McGovern Medical School at UTHealth, UT Physicians has locations across the Greater Houston area to serve the community. To schedule an appointment, call
888-4UT-DOCS
. For media inquiries, please call
713-500-3030
.