UT Physicians offers no-cost online screenings for varicose veins
Written by:
Rob Cahill, UTHealth
| Updated:
April 24, 2018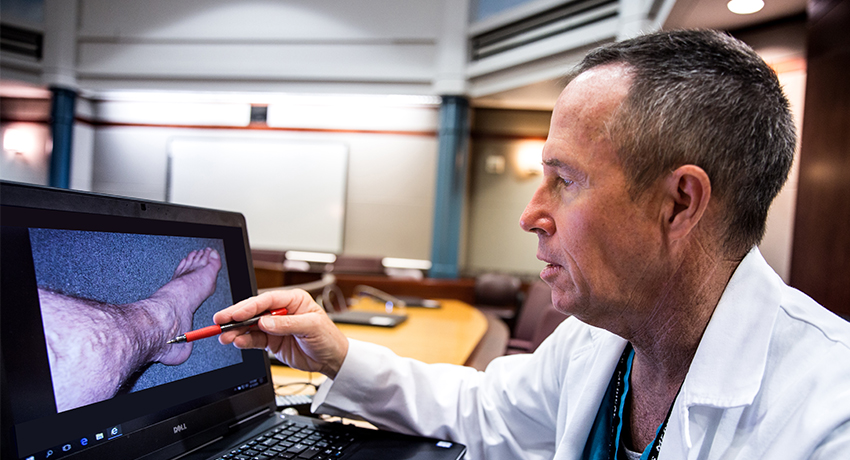 Related Healthcare Providers
Finding out if varicose veins warrant medical attention can be done in the comfort of your home, thanks to a service provided by UT Physicians, the clinical practice of McGovern Medical School at The University of Texas Health Science Center at Houston (UTHealth).
The no-cost online assessment, done via a secure UT Physicians website, includes a brief questionnaire and an attached photo of your veins. Affecting as many as one in two adults, varicose veins can be painful and a possible indication of a serious medical condition such as deep vein thrombosis, pulmonary embolism or peripheral artery disease. Varicose veins are typically purple or blue and sometimes bulge under skin.
After reviewing the information, Stuart Harlin, M.D., associate professor of cardiothoracic and vascular surgery at McGovern Medical School, assesses whether a follow-up visit is warranted.
Treatment can be life-altering for some patients who have a more severe form.
"I helped a young mother who had disabling symptoms from her varicose veins. She experienced pain and swelling to the degree that she could not exercise or work in her garden," Harlin recalled. "She underwent treatment for her varicose veins and has returned to an active lifestyle including competitive sports."
Treatment options range from wearing compression stockings to surgically closing the veins, according to Harlin who is an attending physician with Memorial Hermann Katy Hospital.
People can reduce their risk of varicose veins through routine exercise and by maintaining a healthy weight.
For more information on the online varicose vein screening program, call 713-486-VEIN.
As the clinical practice of McGovern Medical School at UTHealth, UT Physicians has locations across the Greater Houston area to serve the community. To schedule an appointment, call
888-4UT-DOCS
. For media inquiries, please call
713-500-3030
.