COVID-19 drive-thru testing offered in Acres Homes, Sienna neighborhoods
Written by:
Meredith Raine, UTHealth
| Updated:
April 1, 2020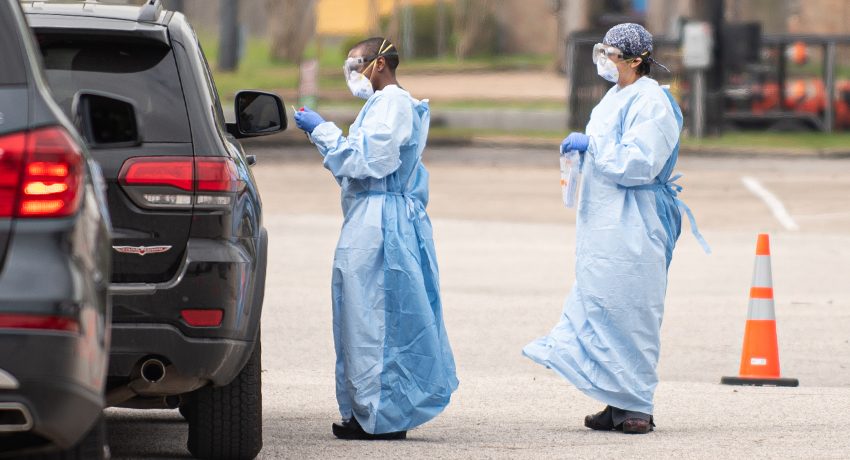 UT Physicians is offering drive-thru sites for COVID-19 testing in the Acres Homes area of Houston and in Missouri City.
Drive-thru testing at 7364 Antoine Drive, Houston, and 8810 Highway 6, Suite 100, Missouri City, is by appointment only by calling 713-486-CO19.
"Through prevention, screening, testing, and compassionate care, we are here for our community," said Giuseppe N. Colasurdo, MD, president of UTHealth and chief executive officer of UT Physicians. "With the health and safety of our patients at the forefront of everything we do, we are working together to prevent the spread of COVID-19."
To obtain an appointment for a COVID-19 test at UT Physicians Multispecialty – Victory or UT Physicians Multispecialty – Sienna, a person must have a health care provider's order.
"Since COVID-19 emerged as a public health threat, we have been on the front lines, screening all patients who visit our clinics," said Andrew Casas, chief operating officer of UT Physicians and senior vice president of UTHealth. "We are pleased to add testing services as we continue to provide exceptional care and do our part to minimize the spread of COVID-19."
Charges may apply via the lab facility. No charge for services will be rendered by UT Physicians, the clinical practice of McGovern Medical School at UTHealth. Test results may take up to five days.
As safety supplies and testing kits arrive, additional sites will be added.
For more information, visit UTPhysicians.com/COVID19Testing or call 713-486-CO19.
As the clinical practice of McGovern Medical School at UTHealth, UT Physicians has locations across the Greater Houston area to serve the community. To schedule an appointment, call
888-4UT-DOCS
. For media inquiries, please call
713-500-3030
.