Mental health and physical health go hand in hand as contributing factors to our overall well-being. Despite the stigma that can often be mentioned surrounding mental illness, millions of people across the U.S. have benefited from regularly seeing a psychologist, psychiatrist or counselor. UT Physicians patients who suffer from more significant trauma-related conditions may be referred to a specialist at the UTHealth Trauma and Resilience Center.
The center, which is located in the UT Physicians Psychiatry Outpatient Clinic at 1941 East Road in Houston, provides adult and adolescent services.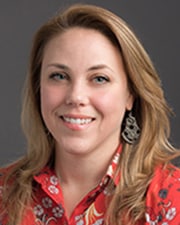 "The Trauma and Resilience Center gives new hope to children, teens, adults and families who have experienced traumatic events, including abuse, neglect, exposure to natural disasters, combat or military traumas, physical injuries, sexual assault and human trafficking," said Leslie K. Taylor, PhD, child psychologist and assistant professor in the Department of Psychiatry and Behavioral Sciences at McGovern Medical School at UTHealth.
For adult patients with less severe symptoms, Digital Cognitive Behavioral Therapy (DCBT) may be an option. DCBT is online self-help tools and resources that are available anytime, day or night. These tools can address common behavioral health conditions, such as depression, insomnia and chronic pain.
Veterans, active duty military and family members can also benefit from their post-traumatic stress disorder (PTSD) support. In the center, health care experts provide treatment to relieve the symptoms associated with PTSD, and help develop coping skills to manage stress.
"Many patients avoid or are scared to talk about their experiences because they think it will make things worse. We work with patients and support them in gaining the courage to face their fears and move through the complexities of trauma. Patients often experience relief just knowing help is available and recovery is possible. At completion of treatment, patients report feeling better, sleeping better and have improved mood. It is a privilege to witness and steward this type of recovery within the community and ultimately this is what compels us to do the work we do," said Taylor.
For more information on the UTHealth Trauma and Resilience Center, visit their website or call at 713-486-2630.