UT Physicians reduces costs and improves outcomes of obstetric patients
Written by:
Melissa McDonald, UT Physicians
| Updated:
May 5, 2017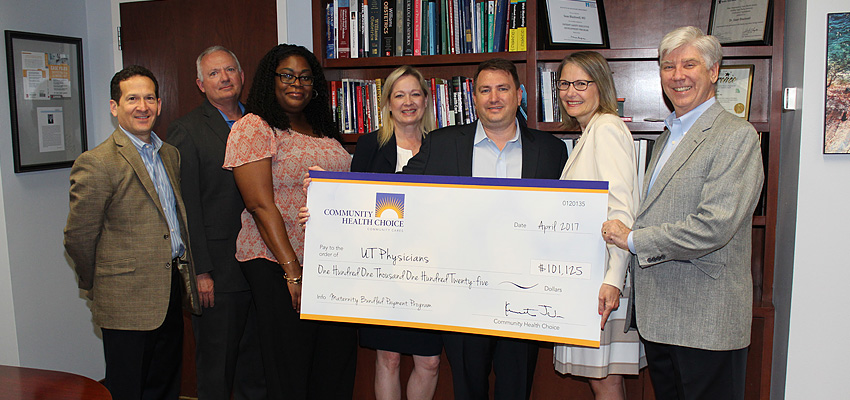 UT Physicians received a bonus check of more than $101,000 from Community Health Choice for its successful efforts during a pilot study to lower costs and advance the care of pregnant women and their babies.
The maternity bundled payment program developed by Community Health Choice, a nonprofit insurer that administers Medicaid managed care plans, began in March 2015. It set a fixed payment for pregnancy care from the first prenatal visit through 60 days after delivery for the mother, and for all of the care delivered to the baby up to 30 days after they leave the hospital.
"It has been a great experience to be in partnership with Community Health Choice the last two years," said Sean Blackwell, M.D., professor and chair of the Department of Obstetrics, Gynecology and Reproductive Sciences at McGovern Medical School at The University of Texas Health Science Center at Houston (UTHealth). "We have improved the quality of care provided to our patients, eliminated unnecessary procedures and lowered costs. It's a formula for success."
As part of the program, UT Physicians, the clinical practice of McGovern Medical School, earned this bonus payment by keeping costs under control and meeting quality standards.
"Thank you for all the great work you do for our patients," said Ken Janda, CEO, Community Heath Choice. "Thank you for providing outstanding care. We are getting very positive feedback from our patients about the care they receive at UT Physicians."
"I am proud of this exceptional accomplishment by our health care providers," said Andrew Casas, vice president and COO of UT Physicians. "Each day, we strive to provide a high level of care that our patients have come to count on in Southeast Texas. Our obstetricians are leaders and innovators in prenatal care."
As the clinical practice of McGovern Medical School at UTHealth, UT Physicians has locations across the Greater Houston area to serve the community. To schedule an appointment, call
888-4UT-DOCS
. For media inquiries, please call
713-500-3030
.