After three months of vaccinating our community, the UTHealth Vaccine Hub was elated to administer their 100,000th dose on Friday, April 9.
Beverly Hensley, the recipient of the milestone dose, has stayed isolated for much of the pandemic. At 71 years old, she is considered at high risk for severe illness from COVID-19.
"Getting the vaccine felt good. It's not what I expected," said Hensley. "Being vaccinated is very important because of my age."
Hensley was not the only person excited that day; it was also a big moment for the staff and volunteers who help to run the Hub.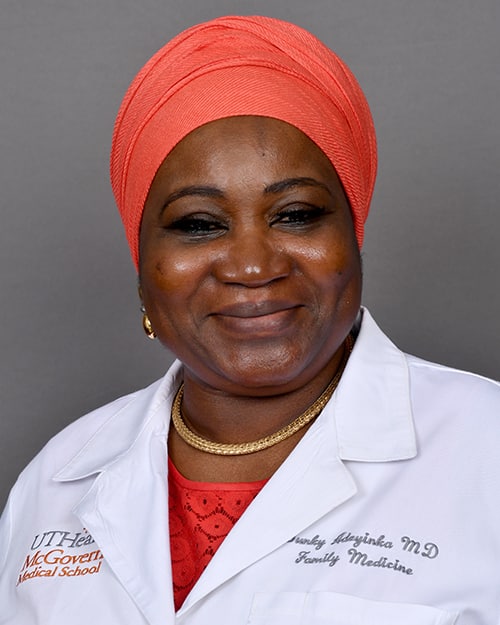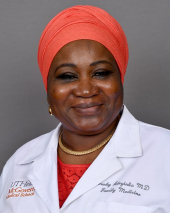 Olasunkanmi Adeyinka, MD, medical director of the UTHealth Vaccine Hub, says that it's so special for her to have been a part of this journey.
"We're all very proud to have reached our 100,000 vaccination," said Adeyinka, who is also a clinical assistant professor in the Department of Family and Community Medicine at McGovern Medical School at UTHealth. "We're also very grateful for our leadership, as well as all our vaccinators and volunteers."
The vaccination site is able to run efficiently with the help of medical personnel and staff from UT Physicians and UTHealth, along with student nurse volunteers from Cizik School of Nursing at UTHealth. These individuals dedicate time from their workday and weekends to help Houstonians get vaccinated, in addition to their day-to-day responsibilities.
Makita Franklin, RN, has been an instrumental figure at the hub, helping to train employees and student nurses, as well as assist with overall daily operations.
Franklin had the honor of being Hensley's vaccinator for her first dose of the COVID-19 vaccine.
"This is significant for me – this means that we've helped so many people so far, and who knows how many more we'll end up with," said Franklin. "This, to me, is still just the beginning."
For more information on vaccines and the UTHealth Vaccine Hub, visit this page.
See behind-the-scenes photos of the 100,000th vaccination and our wonderful team.